Brad Harris and Tony Kendall in Remarkable Superhero Actioner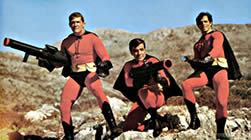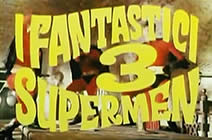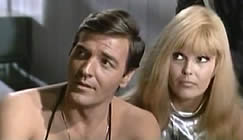 original Italian title: I 3 FANTASTICI SUPERMEN [The Three Fantastic Supermen]
director: Gianfranco Parolini (as Frank Kramer)
starring: Tony Kendall · Brad Harris · Aldo Canti (as Nick Jordan) · Rossella Bergamonti (as Patricia Carr)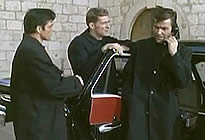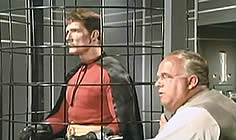 FBI agent Brad joins two crime-fighting supermen, Tony and Nick, in their mission against International arch villains. These self styled superheroes (wearing bullet-proof suits) battle crime with unique dexterity, wit and - of course -guns. They are on a case involving radioactive counterfeit money and a professor who can transmute people into precious jewels.
This film is yet another brainchild for superstar director Gianfranco Parolini. As 'Frank Kramer,' he initially found fame and fortune through the Spaghetti Western genre where he created not one, but two, long-lasting franchises: Gianni Garko's SARTANA and Lee Van Cleef's SABATA. As it turned out, THE THREE FANTASTIC SUPERMEN also developed into a similar franchise even though Parolini did not continue as director. At least another five movies with interchangeable cast members followed [these include Three Supermen... In the Jungle, In Santo Domingo, In the Snow, In the West, In the Orient], however Aldo Canti [Nick Jordan] did not continue for any of them. Reportedly, in real life Canti was a thief with strong ties to the Mafia; he was let out of jail just to appear in this film, afterwards returning to serve his term. For subsequent entries, his role was taken over by Italian stuntman/actor Sal Borgese.
After high school, Brad Harris (born in Idaho USA as Bradford Harris) moved to Los Angeles where he got involved in body building and stunt work. He relocated to Italy in the mid'60s to work as a stunt coordinator for a studio that specialized in sword-n-sandle films [Peplums]. He soon found himself starring in those very films. Harris is best known for Bruno Mattei's SEVEN MAGNIFICENT GLADIATORS, EROTIC NIGHTS OF POPPEA [which also starred his wife Olga Schoberova in the lead role], the S&M thriller GIRL IN ROOM 2A, KING OF KONG ISLAND and Evelyne's Kraft's LADY DRACULA. Mr Harris died from natural causes November, 2017 at age 84.
Over the years, Tony Kendall (born Luciano Stella in Rome) would make numerous Kommissar X spy films with Brad Harris but his breakout role came in Amando de Ossorio's BLIND DEAD series. Over the years, Kendall would star in a wide variety of films including 3 BASTARDS AND 7 SINNERS and CLOSED CIRCUIT but he is probably best known for LORELEI'S GRASP. Mr Kendall died from cancer at age 73 in November 2009.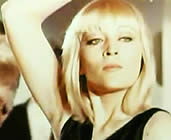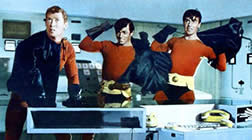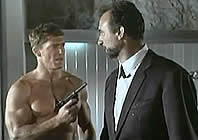 An Italian film in English language; widescreen format, uncut (91 minutes),
DVD encoded for ALL REGION NTSC WORLD FORMAT; extras include Three Supermen trailers.