Click here for more Spaghetti Westerns
10 FILM GRINDHOUSE SPECTACULAR:
SARTANA THE COMPLETE SAGA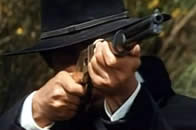 For the first time ever comes the full saga of SARTANA.
From the first mention of the name in BLOOD AT SUNDOWN to the genre redefining series with Gianni Garko (4 movies between 1968-1971),
this DVD package presents a 24 hour Spaghetti Western Festival.
Also included are five of the ultra-rare Spin Off films
starring George Hilton, Klaus Kinski and many more.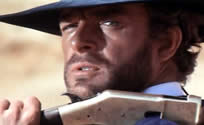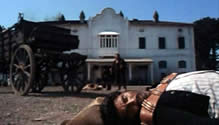 The movies in this special SARTANA boxed package:

BLOOD AT SUNDOWN [aka $1000 ON THE BLACK] (1968)
director: Alberto Cardone
starring: Gianni Garko and George Eastman
SARTANA [aka IF YOU MEET SARTANA... PRAY FOR DEATH] (1969)
director: Frank Kramer [Gianfranco Parolini]
starring Giani Garko, Klaus Kinski and William Berger
SARTANA ANGEL OF DEATH [aka SARTANA THE GRAVEDIGGER] (1969)
director: Anthony Ascott [Giuliano Carmineo]
starring: Gianni Garko, Klaus Kinski and Gordon Mitchell
HAVE A GOOD FUNERAL... SARTANA WILL PAY (1971)
director: Anthony Ascott [Giuliano Carmineo]
starring: Gianni Garko, Daniela Giordano and Helga Line
LIGHT THE FUSE... SARTANA IS COMING (1971)
director: Anthony Ascott [Giuliano Carmineo]
starring: Gianni Garko and Susan Scott
Plus Five More (See Below)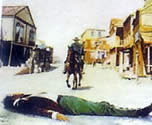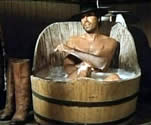 I AM SARTANA... TRADE GUNS FOR A COFFIN (1972)
director: Anthony Ascott [Giuliano Carmineo]
starring: George Hilton and Charles Southwood
PRICE OF DEATH [aka LAST GUNFIGHT] (1972)
director: Anthony Ascott [Giuliano Carmineo]
starring: Gianni Garko, Klaus Kinski and Alan Collins
SARTANA IN THE VALLEY OF DEATH (1969)
director: Roberto Mauri
starring: William Berger and Wayde Preston
ONE DAMNED DAY AT DAWN: DJANGO MEETS SARTANA (1971)
director: Miles Deem [Demofilo Fidani]
starring: Hunt Powers, Dino Strano and Fabio Testi
DJANGO VS SARTANA
[aka DJANGO AND SARTANA ARE COMING... IT'S THE END] (1970)
director: Dick Spitfire [Demofilo Fidani]
starring: Hunt Powers, Chet Davis and Gordon Mitchell


10 Italian Films in a special DVD Box [3 disc package]; totally uncut versions in English dub, encoded for ALL REGIONS NTSC, playable on any American machine