Bruno Mattei does Magnificent Seven with Gladiators!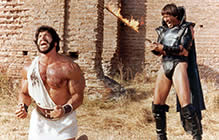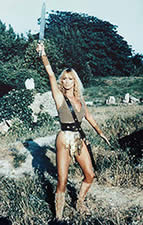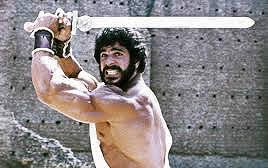 Original Italian Title: I SETTE MAGNIFICI GLADIATORI [Seven Magnificent Gladiators]
director: Bruno Mattei
starring: Lou Ferrigno · Sybil Danning · Brad Harris · Dan Vadis · Carla Ferrigno · Mandy Rice-Davies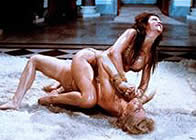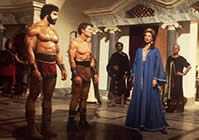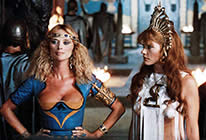 Before actually giving a plot, suffice it to say this is yet another Magificent Seven (or Seven Samurai) remake set - this time - in Italy. A bandit leader endowed with supernatural powers by his sorceress mother makes yearly raids on a struggling peasant village. However, the women of the village have come into possession of a magic sword (seemingly it belonged to Achilles many years before), and they go searching for a hero to wield it and save their village. They find him. And he does the heroic thing.
The film was directed by the legendary Bruno Mattei and written by his assistant Claudio Fragasso. Mr Mattei helmed this film as the final part of his Antico Italia trilogy, preceded by CALIGULA AND MESSALINA (1982) and NERO AND POPPEA (1983) before moving into the women-in-prison period (VIOLENCE IN A WOMAN'S PRISON, 1984). After directing 54 movies in 35 years, Mr Mattei died from a brain tumor in May 2007. He was 75 years old.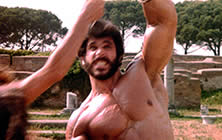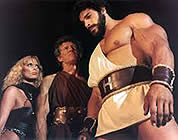 An Italian Film in English language; widescreen format (16:9), uncut (87 minutes), DVD encoded for ALL REGION NTSC WORLD FORMAT; extras include trailers.
Recommended For Adult Audiences