Ultra Rare, Explosive Yukari Oshima Film!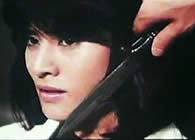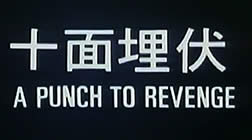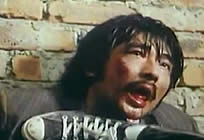 Original Chinese Title: SHI MIAN MAI FU [Face From the Past]
also known as ANGEL OF KICKBOXER (not to be confused with Angel THE Kickboxer)

director: Chiu Lee
starring: Yukari Oshima · Ben Lam · Shing Kwong Lai · Stanley Sui-Fan Fung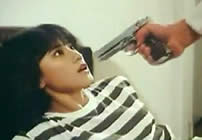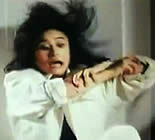 A poor, crippled man with an invalid son forces his wife into prostitution because he can't find a job. He then makes a deal with a criminal boss to pull a heist with his friends. After the robbery goes badly, his social worker Miss Fan (Yukari Oshima) is contacted for police assistance. She gets romantically involved with the investigating officer Peter Lee (Ben Lam). The two find danger when they start digging into the case.
This amazing tale of betrayal and revenge ranks as one of the most sordid - downright ugly - of all the Hong Kong CAT III crime ventures, punctuated by shockingly robust action sequences [especially good since both Ben Lam and Yukari Oshima know how to fight]. With regards to the 'over-the-top' stuff, in addition to getting urinated on, Oshima's Miss Fan takes a bullet in the back and one in the chest while still managing to recoup. The cop, Peter Lee, also takes more than his fare share of bullets and keeps fighting only to get sliced up with a rotary saw down his spine. But, without missing a beat, Lee then takes the saw and slams it into the chest of his assailant (see above photo, center). Some of the film's ugliness spills over into the jawdropping dialogue: "What took you so long and why were you swearing so much?" "Because I was taking a shit and you knocked so loud I had to force it out."
Japanese Yukari * Oshima [born Yukari Tsumura, December 31 1963] decided to be a stuntwoman at an early age. She joined Sonny Chiba's JAC (Japan Action Club) in 1980. She changed her name from Tsumura to Oshima and relocated in Hong Kong for a small part in Sammo Hung's Shanghai Express (1986). That marked the beginning of her acting career, resulting in another 25+ projects (including KUNG FU WONDER CHILD, RIKKI-O, DEVIL GIRL 18) and a high-profile marriage to actor Mark Cheng. After a messy divorce five years later, Ms Oshima moved to the Philippines in 1993 where she established herself as Cynthia Luster and made another 20+ films, including LEOPARD HUNTING with Jade Leung. She has since gone into semi-retirement, now residing in her hometown of Fukuoka, Japan. Ms Oshima is actively involved in television advertising to promote tourism for her city.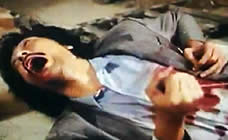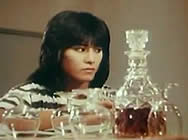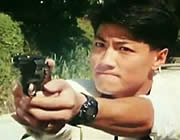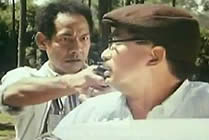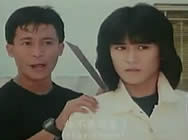 A Category III Chinese film with English and Chinese subtitles; widescreen format (16:9),
93 minutes, encoded for ALL REGION NTSC, playable on any American machine.
Extras include selected theatrical trailers..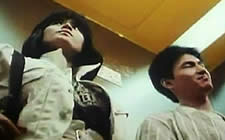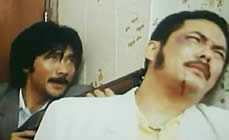 Graphic Violence/Sexual Themes/Sexual Brutality
for Mature Audiences