The Heartwarming and Tragic Story
of a Man and his Akita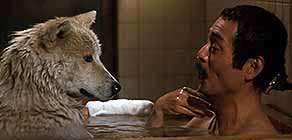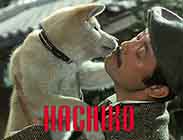 original Japanese title HACHIKO MONOGATARI [The Story of Hachiko]

director: Seijiro Koyama
starring: Tatsuya Nakadai · Kaoru Tachigusa · Toshinori Omi · Toshiro Yanagiba · Mako Ishino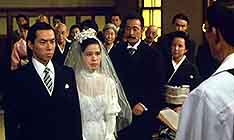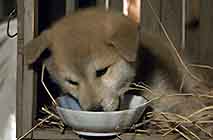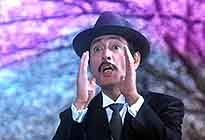 An incredibly sad, poignant true story of an Akita dog born in November 1922 in the city of Odate [Akita Prefecture]. In 1923, a professor from the University of Tokyo named Shujiro Ueno bought the dog and took him to the big city. For years, the dog and the professor followed the same routine. Shujiro would leave for work every morning and Hachiko would see him off from the front door. Then at the end of the day, the dog would wander to nearby Shibuya Station to greet the professor as he deboarded the train. Sadly, the man died in May 1925 but the Akita - unable to understand the reality - would return to the station everyday to wait for Shujiro. Hachiko did this for the next eleven years before collapsing and dying at the train station.
As mentioned above, this is a true story as documented by various newspapers at the time. After Hachiko's death, a statue of the dog was erected at Shibuya Station but later melted down for iron during World War 2. The Japanese would erect a replacement statue in the same location that serves as a popular attraction today. Hachiko's body was preserved and is on display at the Tokyo Museum and Nature and Science.

The lead actor Tatsuya Nakadai is one of Japan's most popular performers, appearing in 150+ films since his bit part in Akira Kurosawa's SEVEN SAMURAI in 1954. He made numerous movies with the master including KAGEMUSHA (Shadow Warrior) and RAN (Rebellion) (as well as classics like SAMURAI REBELLION and SWORD OF DOOM) but genre fans will always remember him for the 1993 remake of LONE WOLF AND CHILD: THE FINAL CONFLICT. Mr Nakadai is still acting today.
Inexplicably, an American remake was done of this story starring Richard Gere under the title Hatchi.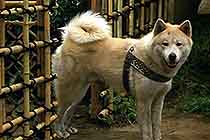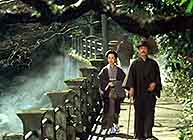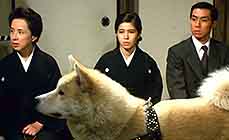 A Japanese film with optional ON/OFF English subtitles; widescreen uncut (107 min.);
for ALL REGIONS, playable on any American DVD machine.
Extras include selected trailers and bios.

    

for Mature Audiences