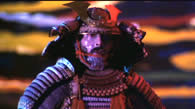 ·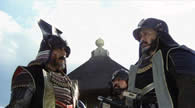 director: Akira Kurosawa
starring: Tatsuya Nakadai · Kenichi Hagiwara · Tsutomu Yamazaki · Jinpachi Nezu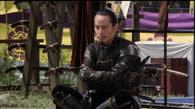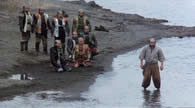 A major hit for legendary director Kurosawa (after ten years in isolation). It's the story of a poor thief who is rescued from the gallows because he resembles a powerful lord. The man becomes a "kage-musha" (shadow samurai), the ruler's double. He is actually the one who risks his life in dangerous conflicts and bloody battles. That is, until the day the lord unexpectedly dies. Then the thief must assume the role full-time.
This movie was actually a joint venture between Kurosawa and "Godzilla" director Ishiro Honda after they formed a production partnership in 1978. For the most part, Kurosawa directed the interiors while Honda shot the exteriors. They also collaborated on the script. Interestingly, Honda felt movies should have only one director and he always hid his involvement, giving Kurosawa total filmmaking credit. The company disbanded fifteen years later, after 5 feature films, with the death of Honda in 1994.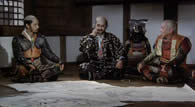 A Japanese film; single disc; widescreen format (1:85:1), original uncut (180 min.) version, encoded for ALL REGIONS, playable on any American DVD machine; in Japanese language with removable English and Chinese subtitles as an option.

Violence/Adult Material:
Viewer discretion is advised.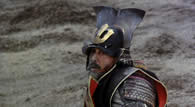 ·