Moon Lee & Yukari Oshima in MegaRare CAT III actioner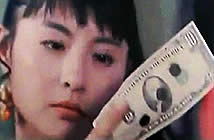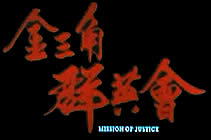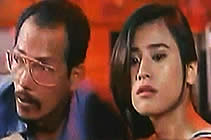 Original Hong Kong / Chinese Title: JIN SAN JIAO QUN YING HUI [Golden Triangle Force]

director: Lu Chin-Ku (as Wong Chun-Yeung)
starring: Moon Lee · Yukari Oshima · Carrie Ng · Sophia Crawford · Kwong Leung Wong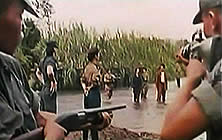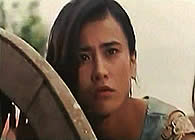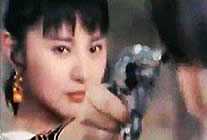 Yukari Oshima plays Bullet [same name, but not the same character in ANGEL TERMINATORS 2, which incidentally was also directed by Lu Chin-Ku] in this Golden Triangle fighting diva actioner. Moon and Bullet are two agents working for the Federal Anti-Crime League, a unit led by Colonel Carrie (Carrie Ng). The two officers are sent to investigate a woman named Yie Feng, running a white slavery, counterfeiting, and drug smuggling ring in the Filipino jungle. They learn that Mistress Feng is poised to sell a massive amount of narcotics to Somi, an International gangster boss. Moon and Bullet assist a local agent to stop the deal, but when he is murdered, their cover gets blown. At this point, they join Colonel Carrie (and her troops) to bring the bad guys to justice.
Filmmaker Lu Chin-Ku is no stranger to the 'Gun Diva' genre, having directed the legendary Moon Lee actioner KILLER ANGELS in 1989, DREAMING THE REALITY and the aforementionedANGEL TERMINATORS 2 [both starring Moon and Yukari]. Director Lu spent 20+ years in the Hong Kong motion picture business, working both as an actor (30 films) and director (24 movies) between 1973-1994. His work in front of the camera - usually under the alias Chun Lu - consisted mostly of action films and martial arts movies. As a filmmaker, under a variety of pseudonyms [ranging from Tommy Loo to Simon Yuen Ching to Lo Chun-Cook], he helmed mostly girls-n-gun action and horror. One of his first projects in the director's chair was BLACK MAGIC CURSE in 1975; he is best known for HOLY VIRGIN VS THE EVIL DEAD, the first CAT III film PROSTITUTES LOVE POLICE and the lesbian revenge flick LADY PUNISHER. He announced his retirement in 1994 due to health problems but continued to write screenplays for another decade - usually under the name Zhenyang Wang - and would take minor television acting jobs for a few more years after that.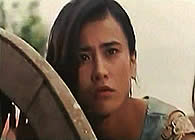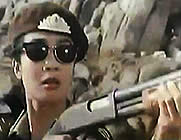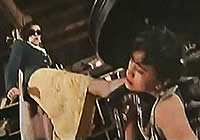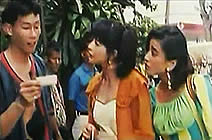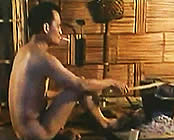 A Hong Kong / Chinese film with Chinese & English subtitles; CAT III; widescreen format,
uncut 88 minutes; DVD encoded for ALL REGION NTSC WORLD FORMAT.
Extras include selected trailers.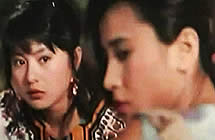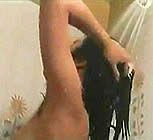 Sexual Themes/Nudity/Violence/Drugs/Rape/Sexual Brutality
for Mature Audiences