Legendary - Yet Hard to Find - Diva Actioner!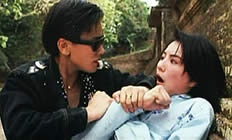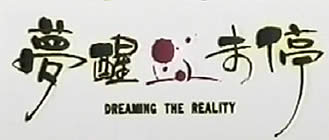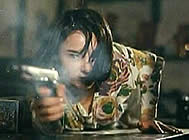 Original Hong Kong (Cantonese) Title: MENG XING XUE WEI TING
also known as BLOOD SISTERS
director: Lu Chin-Ku (as Simon Yuen Ching)
starring: Moon Lee · Yukari Oshima · Sibelle Hu · Eddie Ko · Ben Lam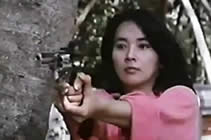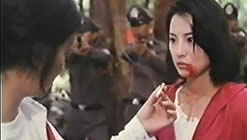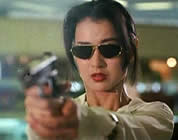 The diva cast (Moon Lee, Yukari Oshima and Sibelle Hu) makes this one of the best girls-n-guns Hong Kong films. The plot deals with two sisters, Fox and Cat, who work as hitwomen for their gangster father. While traveling to Thailand on assignment, Fox (Moon Lee) has an accident and suffers from amnesia. She is befriended by Lan-Fa (Sibelle Hu) who introduces her to a 'normal life.' Thinking that his daughter has betrayed him, the ruthless father sends Cat (Yukari * Oshima) to find and eliminate her. When she can't pull the trigger on her sister, dad retaliates by ordering her stepbrother to snuff Cat. This is the final straw. The two sisters join forces to eliminate the patriarch and his Triad empire.
Filmmaker Lu Chin-Ku is no stranger to the Gun Diva genre, having directed the legendary Moon Lee actioner KILLER ANGELS in 1989. Director Lu spent 20+ years in the Hong Kong motion picture business, working both as an actor (30 films) and director (24 movies) between 1973-1994. His work in front of the camera - usually under the alias Chun Lu - consisted mostly of action films and martial arts movies. As a filmmaker, under a variety of pseudonyms [ranging from Tommy Loo to Simon Yuen Ching to Lo Chun-Cook], he drifted to girl gun action and horror. One of his first projects in the director's chair was BLACK MAGIC CURSE in 1975; he is best known for HOLY VIRGIN VS THE EVIL DEAD, the first CAT III film PROSTITUTES LOVE POLICE and the lesbian revenge flick LADY PUNISHER. He announced his retirement in 1994 due to health problems but continued to write screenplays for another decade - usually under the name Zhenyang Wang - and would take minor television acting jobs for a few more years after that.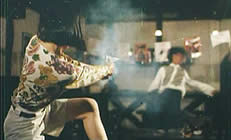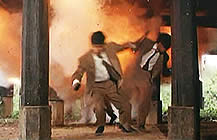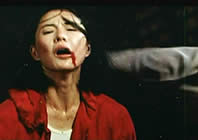 A Hong Kong film with English and Chinese subtitles; widescreen format, uncut (99 minutes),
DVD encoded for ALL REGION NTSC WORLD FORMAT; extras include original trailer.