Kara Hui's Contemporary Horror Chiller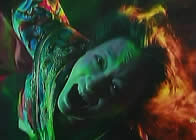 Original Chinese Title: HUANG CUN XIONG JIAN

director: Lu Shiyu
starring: Kara Hui (Hui Yinghong) · Cai Juntao · Zhang Jianhan · Chen Yuaner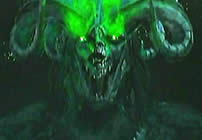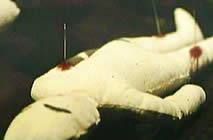 The film opens as a young biker (played by Chinese heartthrob Cai Juntao) takes a spill on a remote mountain road in a serious motorcycle accident. He is rescued by a little girl - dressed in red - who takes him to her home, a decrepit old mansion where the child lives with her stern grandmother (veteran Kara Hui). The young man immediately notices there is something very wrong with the place. It is filled with voodoo dolls, odd horned creatures scurrying about and... a mute girl locked in the attic.
Lu Shiyu was an actor with China's Ying Jie Sheng Film Group. He met and befriended veteran actress Kara Hui while working on BLOOD STAINED SHOES. When the opportunity arose for Shiyu to direct his own film, he contacted Kara and she agreed to star. The result was this very ambitious horror movie filled with mind-jarring special FX.
Kara Hui (also known as Hui Ying Hong) brought a respectability to the project due to her years of quality fare. She was born in Shandong China, February 1960. Her family moved to Hong Kong in 1966. They were poor. While her siblings were selling goods on the street, she quit school and - at age 14 - started working as a night club dancer. In the early '70s, Kara was discovered by film director Liu Chia-Liang at Rennie's Mill Club. He cast her in his martial arts film DIRTY HO. She would make other movies for Liu (including LEGENDARY WEAPONS OF CHINA) while joining the powerful Shaw Bros stable. Kara made another 40 films before Shaw Bros closed its studio in 1985. Her transition as an independent actress went smoothly, allowing her many more motion pictures, much success and numerous HK film awards. With the Chinese take-over of Hong Kong, Kara Hui relocated to Beijing where she has continued starring in such projects as LEGENDARY ASSASSIN, FOX LOVERS, THE NEW CHINESE GHOST STORY and the aforementionedBLOOD STAINED SHOES. To date, Ms Hui has made 150+ movies since 1976.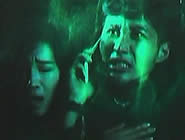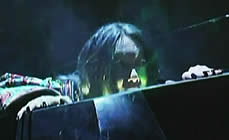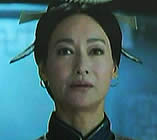 A Chinese film with English and Chinese subtitles; widescreen format (16:9),
81 minutes, encoded for ALL REGION NTSC, playable on any American machine.
Extras include selected theatrical trailers..