Too Adult for Kids
...but It will Thrill the Kid inside all Adults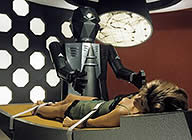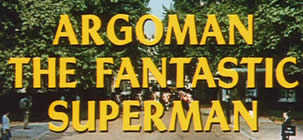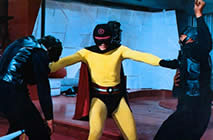 original Italian title COME RUBARE LA CORONA D'INGHILTERRA [How to Steal the Crown of England]
also known as ARGOMAN THE FANTASTIC SUPERMAN and THE INCREDIBLE PARIS INCIDENT
and ARGOMAN AGAINST THE ROBOTS
director: Sergio Grieco (as Terrence Hathaway)
starring Roger Browne · Dominique Boschero · Eduardo Fajardo · Nadia Marlowa · Nino Dal Fabbro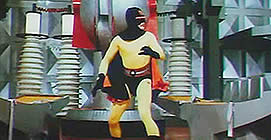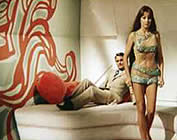 Inspector Lawrence from Scotland Yard discovers the Crown of St Edward has been stolen from the Tower of London in a daring daylight robbery. It appears to be the work of masked criminal Argoman! The Inspector looks for help from debonair Sir Reginald Hoover (actually, unbeknownst to him, the secret identity of Argoman). Sir Hoover is a British adventurer and master scientist [plus, of course, an arch criminal] with a luxury villa on the French Riviera. He's a compulsive womanizer but that is his 'kryptonite' (Argoman loses his super powers six hours after sexual intercourse). However, his non-sexual superpowers are extraordinary: ESP, super-hearing, and exceptional personal magnetism. This is his movie. It tells the story of Argoman's conflict against Jenabell as she attempts to become Queen of the World and expose him while doing it.
Imagine Batman crossed with James Bond. It's decidedly too adult for kids but it will thrill the kid inside all adults. Dominique Boschero as arch-villainess Jenabell is HOT. Fresh from her breakout role in Ernesto Gastaldi's LIBIDO, she accepted this project before turning to a number of supporting parts in Spaghetti Westerns. In 1969, she returned to sizzling cinema with Antonio Margheriti's UNNATURALS. By the late '70s, after supporting roles in popular Giallos (ALL THE COLORS OF THE DARK, WHO SAW HER DIE?, et al), she retired to Frassino, a small mountain village with a few hundred of inhabitants (unaware that she was once the Queen of the World).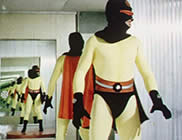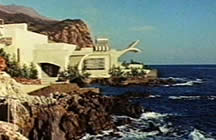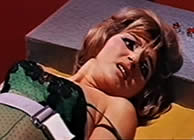 An Italian film in English language; widescreen, windowbox format, uncut (87 min.),
DVD encoded for ALL REGION NTSC, playable on any American machine.