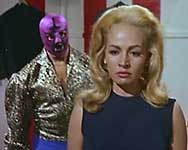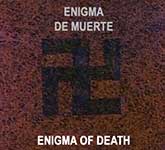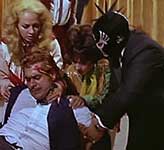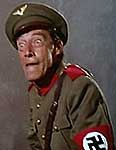 Original Mexican/Spanish title ENIGMA DE MUERTE [Enigma of Death]
also known as SWASTIKA OF DEATH

director: Federico Curiel
starring: Mil Mascaras ˇ John Carradine ˇ Maria Duval ˇ Isela Vega ˇ David Silva ˇ Eric del Castillo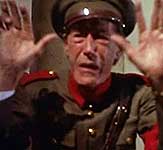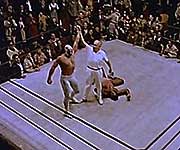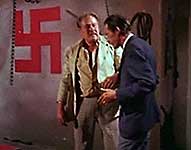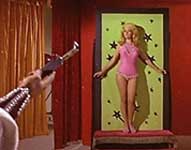 Masked wrestler [and part-time spy superhero] Mil Mascaras is on a mission to keep two neo-Nazis from piecing together a formula for a doomsday bomb. They are scheduled to meet and finalize the deadly explosion somewhere in Mexico. Research takes Mil Mascaras to carnival run by Don Germán and a nest of Nazi sympathizers. Posing as a strongman performer, Mil goes undercover and ferrets out Rios Martin (John Carradine), a top neo-Nazi leader hiding behind clown makeup. Lots of weirdness with knife-throwers, drunken midgets, sharpshooters, sadistic white supremacists and Ferris Wheel shenanigans as Mil Mascaras enters a world of diabolical intrigue and political incorrectness.
Mil Mascaras is a professional Luchador [masked Mexican wrestler], the first to wrestle at NYC's Madison Square Gardens (December, 1972). He was born Aaron Rodríguez Arellano in 1942 and began his wrestling career in 1965, winning numerous major awards including Mexico's D.F. National Heavyweight title. Of course, Mil is best known for his movies and he continues making them today (MIL MASCARAS VS THE AZTEC MUMMY).
This movie was the last of four made by actor John Carradine in Mexico in the late '60s (preceded by JEKYLL AND HYDE: DIABOLICAL PACT, MADAM DEATH and LAS VAMPIRAS [also with Mil Mascaras]). He would travel the world, appearing in one film after another (he often mused: "Why do I have a house if I'm never home"). In fact, he made almost 400 movies between 1930-1995, dying of natural causes in Milan Italy at age 82, November 1988.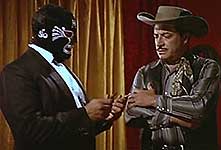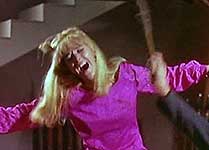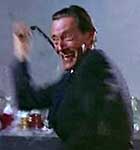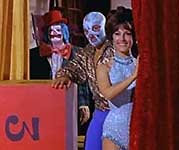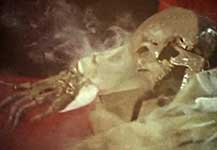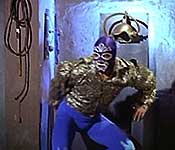 A Mexican film with optional ON/OFF English subtitles;
fullscreen; uncut 92 minutes; NTSC DVD format, encoded for ALL REGION,
playable on any American DVD machine. Extras include Mil Mascaras trailers.



Violence/Whipping/Adult Themes
recommended for Mature Audiences