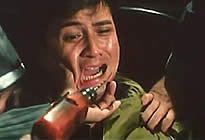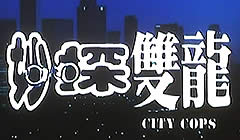 original Hong Kong title MIAO TAN SHUANG LONG [Fighting Double Dragon]
also known as FIGHT TO WIN and BEYOND THE LAW

director: Wing Lau-Kar
starring: Wai Miu-Kiu (as Michael Miu) · Shing Fu-On
Cynthia Rothrock · Michiko Nishikawa · Suki Kwan · Fung Woo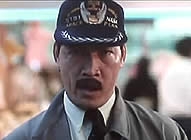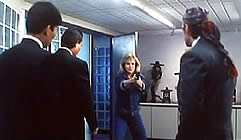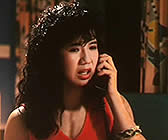 Three detectives - two from Hong Kong, Ching and Tai (Michael Miu and Shing Fui-On), and one from FBI, Inspector Cindy (Cynthia Rothrock) - go after a vicious diamond smuggler in Hong Kong. They capture the Japanese ring leader but his sister (Michiko Nishiwaki) comes in to take revenge against a mob informant and the police.
Perennial bad guy Shing Fui-On (HORRIBLE HIGH HEELS, MYSTERIOUS MURDER, THE KILLER, etc) is almost unrecognizable with his Tom Selleck mustache (above left pic).
Director Wing Lau-Kar is a former martial arts actor (starring in 100+ films) who also worked as a stunt specialist while helming another 40+ films. He is probably best known for directing Sammo Hung's PEDICAB DRIVER in 1990.
Cynthia Rothrock, originally from the United States, speaks fluent Chinese and English. Today, Miss Rothrock owns a martial arts school in Studio City where she is a private instructor to Hollywood stars. She currently owns 5 black belts for various fighting styles [Tang Soo Do and Tae Kwon Do (both Korean), as well as Wushu, Eagle Claw Kung Fu, and Northern Shaolin Kung Fu (all three Chinese)] but is best known for her Scorpion Kick. Her rival in this film is Japanese fighting diva Michiko Nishikawa (ANGEL TERMINATORS, AVENGING QUARTET, et al). Their final fight is remarkable.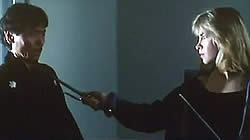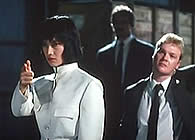 A Chinese film in English language; widescreen uncut (90 min.);
for ALL REGIONS, playable on any American DVD machine.
Extras include selected trailers.

  

Sexual situations/Graphic Violence/Martial Arts Action
for Mature Audiences