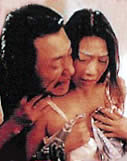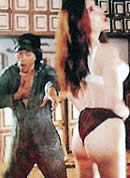 director: Chan Wai On and Chow Cheung
starring: Shing Fui On · Dick Wei · Billy Chow Bei-Lei
Suen Tung Tung · Chow Yuk Ling · Yue Hei Man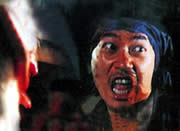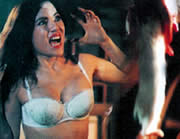 "HORRIBLE" may aptly describe this over-the-top, sex'n'gore Category III extravaganza. It could easily be the worst of all the gross-out shockers in the wake of DR LAMB and UNTOLD STORY. But for many fans of Asian Cult Cinema, HORRIBLE HIGH HEELS is also fondly embraced as a true guilty pleasure.
Somebody is brutally killing a bunch of people, skinning them, and using the tanned flesh for shoe leather. The "extremely comfortable" shoes result in overnight success for a struggling shoe company.There's also a side story about a ruthless mafia boss who kills his associates for sport; and, yet another, subplot about a girl raped by her coworker.
HK Custom Made import; widescreen version in DVD encoded for ALL REGION, playable on any American DVD machine; in Chinese language with English & Chinese subtitles. This title is Category III, intended for viewers over 18 years of age.

Violence/Adult Material/Gore: Viewer discretion is advised.
·