Lorena Velazquez is an Evil Queen on Planet Sibila!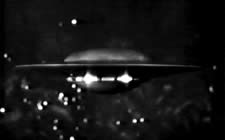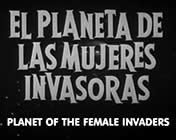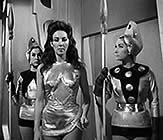 Original Mexican/Spanish Title: EL PLANETA DE LAS MUJERES INVASORAS
[The Planet of the Female Invaders]

director: Alfredo B Crevenna
starring: Lorena Velazquez ˇ Elizabeth Campbell ˇ Maura Monti ˇ Guillermo Murray ˇ Adriana Roel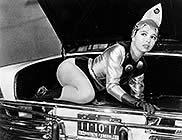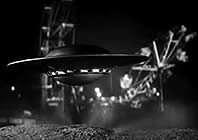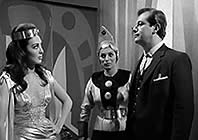 Conceptionally similar to Rogelio A. González's SHIP OF MONSTERS, this Mexican SciFi thriller tells the story of space vixens from the planet Sibila who visit Earth in their flying saucer. These female aliens are capturing Earthlings to take them back to Sibila for some unconventional experiments in lung transplanting. They land their saucer at a carnival [next to the Twilt-A-Whirl], disguising the ship as a new ride, luring customers into a "A Trip to the Moon for 5 Pesos." The kidnapped humans - including boxer Marcos Goday, his girlfriend Silvia, a young couple with their son, plus a gangster boss and his torpedoes - are whisked away to the rogue planet where they're held prisoner by evil queen Adastrea. Meanwhile, back on Earth, scientist Daniel Wolf (who happens to be Silvia's boss) attempts to organize a rescue.
This is a wide-eyed adventure of a film - an incredibly endearing project - despite seeming to have been written by a 7 year old. Alfredo B. Crevenna was a German filmmaker who escaped Hitler's Germany in 1938. At first, he attempted to get work in Hollywood but couldn't secure a visa, so he migrated to Mexico where he enjoyed a prolific 50 year career. He helmed over 150 films, mostly lucha libre and horror, which include DYNASTY OF DRACULA, SANTO VS BLACK MAGIC, BEAST OF TERROR and THE WHIP AGAINST SATAN. He died in August 1996 from cancer, at age 82.
Bombshell actress Lorena Velazquez is striking in a dual role, as both Queen Adastrea and her twin sister Alburnia. After 125+ films since 1955, Miss Velazquez is still acting, starring mostly in Mexican television today. Besides this movie, she is best known for WRESTLING WOMEN VS THE AZTEC MUMMY, SANTO VS THE VAMPIRE WOMEN and the aforementionedSHIP OF MONSTERS.
Italian-born Maura Monti would also star in the genre hit BAT WOMAN two years later.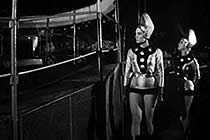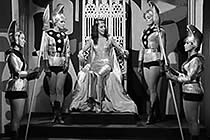 A Mexican production with optional English subtitles; fullscreen format (4:3),
uncut version (85 min.), DVD encoded for ALL REGION NTSC, playable on any American machine.
Extras include selected trailers.