Monsters Galore in Hong Kong/Japanese Fantasy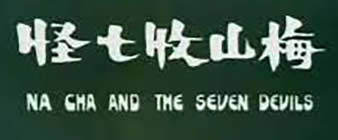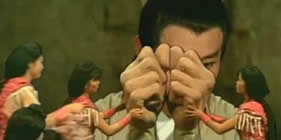 original Chinese title MEI SHAN SHOU QI GUAI [Seven Devils Conquered at Mount Mei]

director: Tetsuya Yamanouchi
starring Li Cheng · Tina Chun-Fei · Ping An · Hung Wei · Hung Lieh Chen · Yang Yueh (Yan Yu)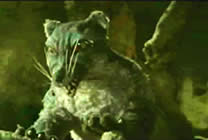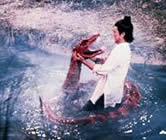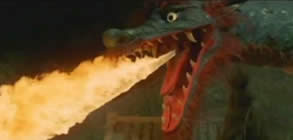 In the mid '70s, Shaw Bros Studios of Hong Kong - hoping to increase maximum visibility worldwide - began making International co-production deals. They partnered with Britain's Hammer Films to make LEGEND OF THE SEVEN GOLDEN VAMPIRES; in Germany, they made a deal with Rapid Films for the amazing exploitation movie VIRGINS OF THE SEVEN SEAS. And in Italy, they matched their biggest star, Lieh Lo with Lee Van Cleef for STRANGER AND THE GUNFIGHTER; at the same time, they also tapped director Alfonzo Brescia for AMAZONS AGAINST SUPERMEN. They struck an unusual partnership with director Tesuya Yamanouchi and Michio Mikami to make this film which would be promoted as a Japanese/Chinese production but shot in Taiwan.

Essentially it was a remake of 1949's Na Zha Mei Shan Shou Qi Guai (Na Cha Conquered the Seven Devils at Mei Hill) based on a Chinese legend with no ties to Japan. In fact, Taiwanese Ho Wu-Hsiung was brought in to be the assistant director and it is believed that he was largely responsible for most of this shoot. However, the work of art director Mutsuo Mikimi cannot be ignored. Much of the film's style comes from him, the man who did special effects for GOKE BODY SNATCHER FROM HELL.
The cast is almost completely from the Shaw Bros stable, headlined by two of their exotic beauties Li Cheng and Tina Chun-Fei (both from 14 AMAZONS). The only 'outsider' is Yan Yu who receive 'guest star' status. She was a Taiwanese actress known for her fantasies, especially MOTHER GODDESS AND THE SEA DRAGON. The story deals with a child named Na Cha who shakes a 1000 year old peach tree allowing 7 peaches to fall to the ground. A collection of critters steal the peaches and - after eating them - become demons which threaten all humanity. To make amends for his act, Na Cha is sent to Hell to challenge the seven devils and save the world.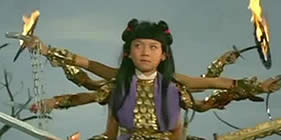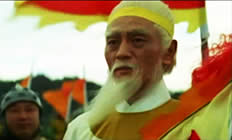 A Hong Kong/Japanese film in Chinese with good English subtitles; widescreen format, uncut (87 min.),
DVD encoded for ALL REGION NTSC, playable on any American machine.