An Obscure Taiwanese Monsterized Fantasy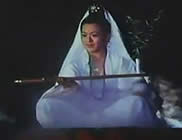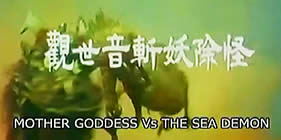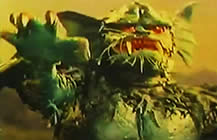 Original Taiwanese title: TIAN HOU CHUAN [Legend of Mother Goddess]
also known as MOTHER GODDESS AND THE THREE MONSTERS

director: Hsu Ta-chun (also known as Cheng Hou)
starring: Yang Yu · Peter Kwan Yang · Yuet Suen · Ming Chiang · Su Chen-Ping · Keung Ding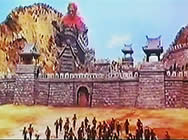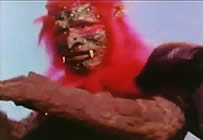 For this unusual Taiwanese fantasy, two angel youths are turned into monsters and banished to Earth. Meanwhile, to fulfill a prophecy, a baby is born with supernatural powers but the Emperor is determined to kill the child before she can muster her abilities. The plot itself comes and goes as the movie unspools. The real story seems to surround the monsters - essentially a red demon, a white ape and a sea dragon - oblivious to their surroundings and determined to destroy each other and everything around them.

According to the Japanese cinema publication Kinejun, Kôichi Takano from Tsuburaya Production Studio was hired to oversee the monster segments (most of the film) with his expertise in costuming and puppet animation. His design of the Sea Serpent seems based on the classic Chinese dragon while the red-haired Devil is obviously inspired by MAJIN. The 1000-Year-Old white ape seems to have its roots in King Kong. The Mother Goddess (of the title) shows up from time to time, usually to check on the status of the Sea Dragon but most of the human action is conducted by a royal swordsman.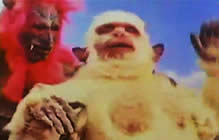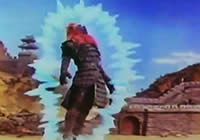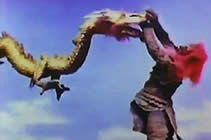 A Taiwanese film with English/Chinese subtitles; fullscreen format, (90 min.), DVD encoded for ALL REGION NTSC, playable on any American machine. Extras include selected trailers.