The Fully Uncut "Adult" Version starring Paul Naschy
Contains All the Nudity and Violence missing from the regular mainstream print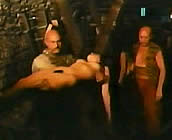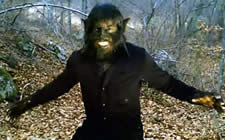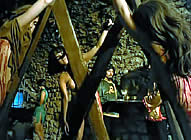 original spanish title: LA MALDICION DE LAS BESTIA (Curse of the Beast)
also known as THE WEREWOLF AND THE YETI

director: Miguel Iglesias (as M I Bonns) written by Paul Naschy (as Jacinto Molina)
starring: Paul Naschy · Grace Mills · Silvia Solar · Gil Vidal · Luis Induni · Jose Castillo Escalona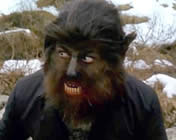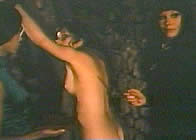 This production followed Naschy's CURSE OF THE DEVIL (Return of the Walpurgis); it was his eighth film as Waldemar Daninsky, the reluctant werewolf. While Naschy plays the same character in each of his films, the stories do not follow any kind of sequence. This time, he is an anthropologist (and psychologist) who agrees to join a Tibetan expedition with Sylvia, the daughter of a scientist friend, in search of the yeti. During the dangerous trek, Daninky is separated from the others and finds refuge in a mysterious cave. Inside two women come to his aid (and bed) before he discovers them eating the body of his guide. Unfortunately, Daninky has been bitten by one of the exotic women and he is now infected with a lycanthropic virus. Meanwhile, Sylvia and the rest of the group have been captured by armed bandits led by wicked Saga Khan and his evil princess who seem to get their kicks through sexual torture.
Many of the critics who follow Naschy's career agree this is his most successful film. However, few cult fans have had the opportunity to see it fully uncut. This movie - like many others during Naschy's most prolific period (ie, DR JEKYLL AND THE WOLFMAN, THE WOLFMAN NEVER SLEEPS, et al) - was initially shot in two different versions: 'Mainstream' and 'Adult.' Traditionally, the adult prints are much more difficult to find. In the early 2000s, after his highly successful comeback films ROJO SANGRE (Blood Red) and MUCHA SANGRE, Paul Naschy went to Hollywood for two movies Fred Olen Ray's TOMB OF THE WEREWOLF and COUNTESS DRACULA'S ORGY OF BLOOD (both 2004). He then flew to Brazil for Ivan Cardoso's tailor-made project WEREWOLF IN THE AMAZON. That would be his final motion picture. Paul Naschy died of pancreatic cancer at age 75 in 2009.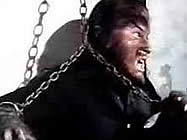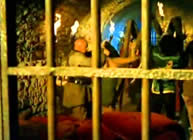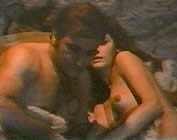 A Spanish film in English language; widescreen format, uncut version at 92 minutes, DVD encoded for ALL REGION NTSC WORLD FORMAT. Extras include theatrical trailers.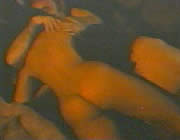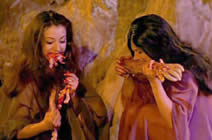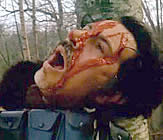 Graphic Violence/Nudity/Sexual Brutality/Gore/Drugs
For mature audiences