Sergio Bergonzelli - director of FOLDS OF THE FLESH - Delivers Nunsploitation Sleaze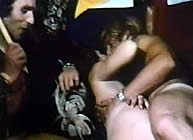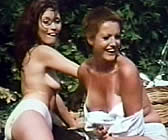 director: Sergio Bergonzelli
starring: Toti Achilli · Magda Konopka · Eva Czemerys · Vassili Karis · Marco Guglielmi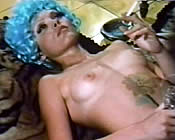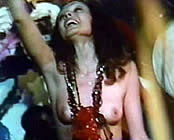 Sergio Bergonzelli's film opens with Cristiana having sex on an airplane - no, not in the bathroom like a normal person - but rather right there in coach. People around her are cheering her on, but many others are shocked. The coupling is interrupted by a thunderstorm and extreme turbulence. Cristiana - thinking she's going to die - repents and promises to give up her evil ways. She tells God that she'll join a convent if he intervenes and saves the plane. Of course, the airplane doesn't crash. Cristiana becomes a nun. But she soon learns that life inside a convent isn't quite as pure and innocent as she thought it was going to be.
Of course, this wasn't the first nunsploitation movie. But it's very rare and director Bergonzelli pulls no punches when it comes to the sleaze factor (including a trippy fantasy sequence where Cristiana has sex with a psychedelic painted Jesus). Italian starlet Toti Achilli plays Cristiana, but Magda Konopka - from SATANIK and WHEN DINOSAURS RULED THE EARTH - plays Sister Eleonora.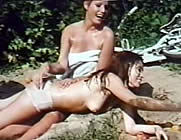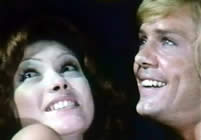 An Italian film; fullscreen format, totally uncut version (89 min.), in English language, DVD encoded for WORLD FORMAT NTSC, playable on any American machine. Extras include theatrical trailers. 
Adult Material/Nudity/ Violence/Sexual Brutality/Rape/Sexual Situations/Drugs:
For Mature Audiences