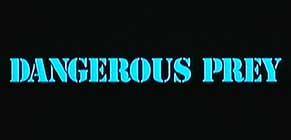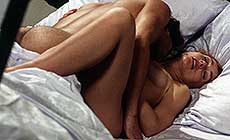 original Czech title VÁZANÝ KORIST [Bound Prey]

director: Lloyd Simandl
starring: Shannon Whirry · Ciara Hunter · Joseph Laufer · Beatrice de Borg · Carol Cartier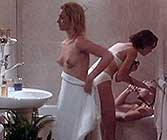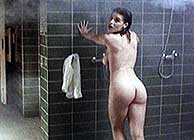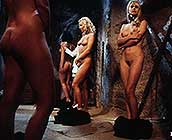 On a trip to Europe, stunt woman Robin is abducted and soon finds herself in a training facility for female mercenaries. She becomes a trapped victim in this sleazy La Femme Nikita variation where - indeed - a doctor forces the women into killing by inserting a chip into their brains, a microchip that will destroy them if they don't comply. Director Simandl adds tons of gratuitous nudity through shower scenes and lesbian encounters plus his usual arsenal of S&M, bondage, action, explosions and some high tech gadgetry.
Lloyd Simandl made his debut with the Canadian S&M film AUTUMN BORN starring Dorothy Stratten in 1979. Spanning the next 40+ years, he would essentially remake the same film with different actresses in the lead roles. He calls this genre "Bound Heat" films and they usually consist of a plot which features a naive girl (or collection of girls) kidnapped by a dominitrix (from a variety of hierarchy positions including corrupt government, the military, the prison system, drug traffickers, slave traders, an alien planet or even vampire sect). Mr Simandl left his Canadian home shortly after his first movie and relocated in his native Prague, Czech Republic. Most all of his 50+ films were shot there (the notable exception was the Italian-made horror film DEATH DOOR: PORTAL TO HELL in 2004) in English. His most popular films include CHAINED RAGE: SLAVE TO LOVE, CRIES OF INNOCENCE, CALIGULA'S SPAWN, CHAINED ROSE [and the Chained Rose SEQUEL], WHITE SLAVE LOVERS and SCHOOL OF SURRENDER
A Czech Republic film shot in English; fullscreen, uncut (92 minutes) in DVD encoded for REGION ONE NTSC, playable on any American DVD machine;
Extras include Simandl theatrical trailers.

Nudity/Graphic Violence/Rape/Lesbianism:
Recommended for Adult Audiences.