Front Cover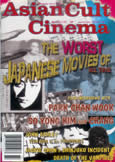 ·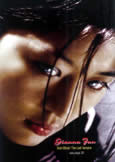 Back Cover

Asian Cult Cinema Magazine #64
(Asian Cult Cinema magazine stopped publishing
with this Issue September 2009)

Here's what's inside this issue:

ACC editor Thomas Weisser presents the countdown for the WORST JAPANESE MOVIES OF ALL TIME. "These movies are bad," he writes, "While many (with the probable exception of BLIND BEAST VS KILLER DWARF) would also qualify as quilty pleasures - make no mistake - they are still bad. Very bad."
Read 'em and weep. Here are descriptions and pics for the worst of the worst.
Plus: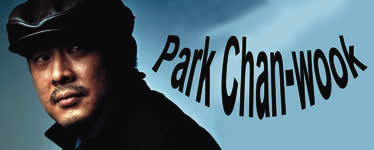 New York Post film critic V A Musetto interviews Korean director PARK CHAN-WOOK (above) as they discuss his new vampire film THIRST and his classic movies like OLDBOY.
Issue 64 also features interview with SO YONG KIM (below left) by Lisa Odham Stokes; and DEATH BELL director CHANG (below right) conducted by Patrick Van Hauwaert.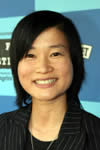 ·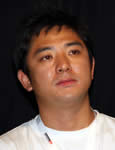 There's also a fascinating feature piece on Jackie Chan's new 'No More Mr Nice Guy' film SHINJUKU INCIDENT by Tony Williams (below left) and Jerry White laments the current state of American vampire flicks while praising THIRST and BLOOD (below middle). Bryan Yeatter is also on hand with an in-depth look at the Filipino career of JOHN "BLOOD ISLAND" ASHLEY (below right).

Plus also in this issue:
Reviews for GROTESQUE,, SHOOT THE DIRTY RAPIST and Miike's YATTERMAN plus columns by Max Allan Collins, Ric Meyers and Dr Stan Glick.
Asian Cult Cinema is available mailorder from this site
[single copy or subscription]
or at bookstores and newsstands
including Borders and Barnes and Nobles.

It is Recommended for Mature Audiences