A DELUXE FOUR DVD PACKAGE
BLOOD ISLAND VACATION BOX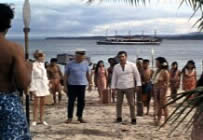 #1: BRIDES OF BLOOD (1968)
director: Eddie Romero and Gerardo DeLeon
starring: Kent Taylor · John Ashley · Beverly Hills · Eva Darren
#2: MAD DOCTOR OF BLOOD ISLAND (1969)
director: Eddie Romero and Gerardo DeLeon
starring: John Ashley · Angelique Pettyjohn · Ronald Remy · Alicia Alonzo
#3: BEAST OF BLOOD (1970)
director: Eddie Romero
starring: John Ashley · Celeste Yarnall · Eddie Garcia · Lisa Belmonte
#4: BRAIN OF BLOOD (1971)
director: Al Adamson
starring: Kent Taylor · Grant Williams · Regina Carrol · Reed Hadley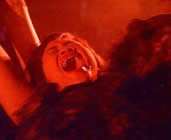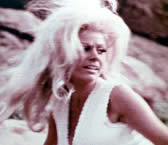 Take a trip back to the days of the Drive In with this quartet of sleazy shockers. First, you'll see witch doctors sacrifice beautiful virgins to a horribly mutated beast (BRIDES OF BLOOD) and then you'll meet a mad scientist creating life from a fusion of plant and human (MAD DOCTOR OF BLOOD ISLAND). Next, the half-dead green-blooded monster escapes from a departing boat and returns to Blood Island with a vengeance (BEAST OF BLOOD). And lastly, in an unofficial official entry by shlock-director Al Adamson, feast your eyes on an evil dwarf, a lumbering monster, a basement filled with chained women and the wicked BRAIN OF BLOOD.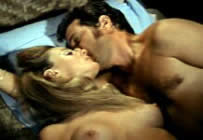 A domestic release of American films; all are presented in widescreen (1.85:1), uncut (total 285 minutes), encoded for ALL REGIONS NTSC, playable on any American machine; in English language. Extras include trailers.

  

Violence/Adult Material:
Viewer discretion is advised.