Flesh and the Bloody Terror TRILOGY
Complete CAT III Versions of All Three BEAST Films in Special 3 Disc Package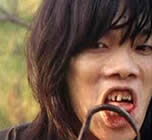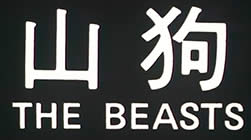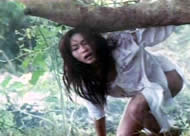 Films are rated CATEGORY III (18+) contain scenes of excessive violence and sexual assault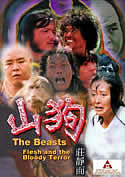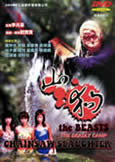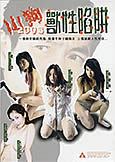 FILM #1
THE BEASTS (1980)
original Chinese title SHAN KOU
director: Teddy Robin Kwan and Dennis W. K. Yu
starring: Fong Ling Ching · Teresa Woo · Kent Cheng · Eddie Chan · Sing Chen
FILM #2
THE BEASTS: CHAINSAW SLAUGHTER (1999)
original Chinese title SHAN KOU
director: Bowie Lau
starring: Anthony Wong · Lai Chun · Winnie Leung · Lam Chi Sin · Chat Pui Wan
FILM #3
THE BEASTS: FLESH AND THE BLOODY TERROR (2003)
original Chinese title SHAN KOU
director: Edmond Yuen
starring: Cherry Chan · Tiffany Cheung · Gloria Wong · Mak Siu Wah · Jeff Kam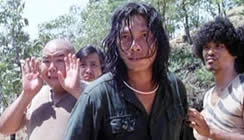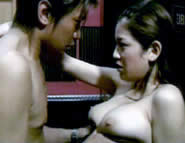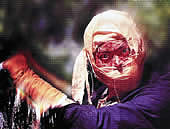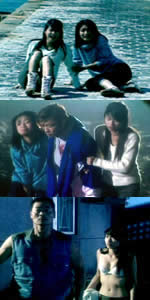 Obviously inspired by such Western fare as THE HILLS HAVE EYES and I SPIT ON YOUR GRAVE, the original film follows a group of teens, camping in the woods, where they are stalked by backwoods psychos. One girl is raped and killed by these beasts and then her brother gets gruesomely murdered. When the local sheriff refuses to cooperate against the locals, the girl's dad (played by scriptwriter Fong Ling Ching) takes justice into his own hands.

Anthony Wong adds even more perversity to the second installment. It's the story of teenage friends partying on an idyllic island where they get stalked and tortured by a mentally retarded boy and his chainsaw-weilding father. The plot, essentially, revolves around the unrelenting dad who wants his retarded son to lose his virginity and turns his chainsaw on anyone who is unwilling to cooperate.

For Edmond Yuen's third version, models and agents go to a "deserted" island for a photo shoot but they soon become victims in a perverse trap set by a gang of backwoods mutants.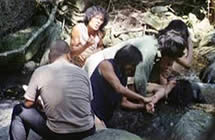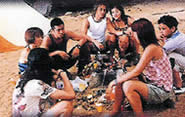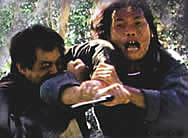 Three Chinese films with English subtitles; widescreen format, uncut 90+92+85= 267 minutes),
DVD encoded for ALL REGION NTSC WORLD FORMAT. Extras include selected trailers.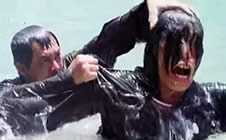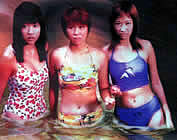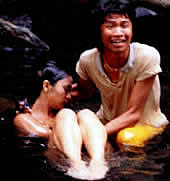 Graphic Violence/Rape/Gore/Sexual Brutality/Drugs
reccomended for Adult Audiences only