This woman has just cut, chopped, broken and burned five men beyond recognition... but no jury in America would ever convict her! (see note below)!

·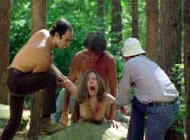 original title: DAY OF THE WOMAN
director: Meir Zarchi
starring: Camille Keaton · Eron Tabor · Richard Pace · Anthony Nchols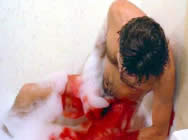 ··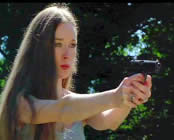 Jennifer Hills is a magazine wrier from New York City who journeys to a secluded cabin in the woods to write her first novel. But she is brutally assaulted, raped and left for dead by four rednecks. However, Jennifer survives! Emotionally destroyed, she concocts grisly revenge against her attackers.
A couple notes on this film:
1) The now-famous poster art (see cover) shows the backside of a shapely woman holding a bloody knife. This is not willowy Camille Keaton. It was actually an early modeling job for Demi Moore.
And 2) the original art advertised that the heroine was going to kill "5 Men" during the running time of this film. Obviously, the people writing the tagline hadn't seen the movie. Ms Hills eliminates only four.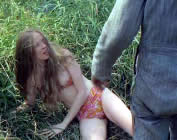 ·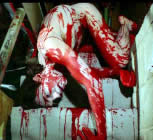 An American Film; widescreen (16:9), fully uncut (100 minutes) encoded for ALL REGIONS NTSC, playable on any American machine; in English language. Extras include audio commentary by director Zarchi, multiple theatrical trailers, foreign and domestic art, plus more.

Graphic Violence/Adult Material/S&M/Rape/Nudity/Drugs:
Viewer discretion is advised.