Quite Possibly Isabel Sarli's Greatest Movie
Grindhouse Cinema Gone Mad!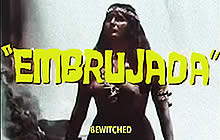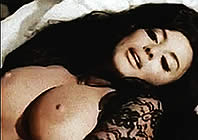 Original Argentinean/Spanish Title: EMBRUJADA [Bewitched]
also known as POSSESSED

director: Amando Bo
starring: Isabel Sarli · Victor Amando Bo · Daniel De Alvarado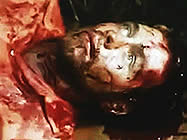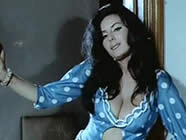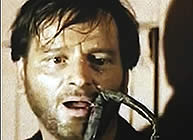 Ansise, the daughter of a native tribal chief, is brought to civilization by a wealthy plantation owner who marries her. Her only dream is to become a mother, but husband Leandro is both infertile and gay. Her desire to have a baby soon turns into a mania. She even tries to work secretly in a brothel, excited by the concept of 30-40 men filling her with sperm daily (it does not end well). But the real problem is a monster called Pombero [from her tribe's hex] has also fallen in love with Ansise and is on a deadly mission to kill all the men in her life.
If Russ Meyer and Jess Franco had collaborated on a low-budget jungle horror flick, it might look something like this batshit crazy supernatural-sex opus. This movie - shot just after her legendary FUEGO - is the film that cemented Isabel Sarli's reputation as South America's Sex Queen. She had won the 'Miss Argentina' title in 1955 and a short time later met actor Amando Bo. He convinced Isabel to begin making movies with him functioning as the writer and director. The union resulted in a marriage and 30 subsequent films, ending in 1981 with Amando's death from cancer. Despite the numerous attempts to censor her motion pictures over the 25 year period, Isabel's popularity grew to legendary status. In 2012, the president of Argentina Cristina Fernández de Kirchner, gave her the honorary title 'Embajador de la Cultura Pop' [Ambassador of Pop Culture] saying: "Isabel Sarli is considered a true representative of the national culture, as much for her acting skills in films as for being considered a popular icon of her day and an emblematic figure of Argentine cinema." One of her biggest International fans is director John Waters. After watching this film, it's easy to see why.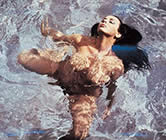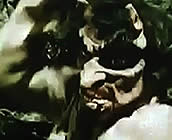 An Argentinean/Spanish film with English subtitles; fullscreen format (4:3),
80 minutes, encoded for ALL REGION NTSC, playable on any American machine.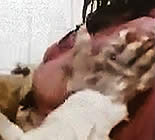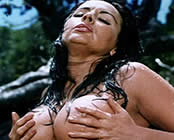 Nudity/Violence/Sexual Brutality/Whipping/Homosexuality
for Adult Audiences