Fully Uncut Gory SciFi Thriller from Luigi Cozzi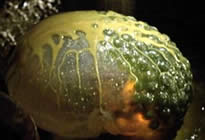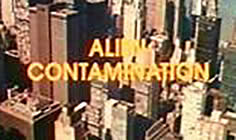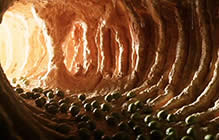 Original Italian Title: CONTAMINATION: ALIEN ARRIVA SULLA TERRA
[Contamination: Aliens Arrive on the Earth]
also known as TOXIC SPAWN (Edited Version) and CONTAMINATION
director: Luigi Cozzi (as Lewis Coates)
starring: Ian McCulloch · Louise Marleau · Marino Mase · Gisela Hahn · Siegried Rauch · Carlo De Mejo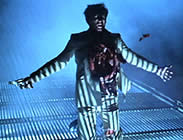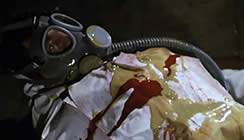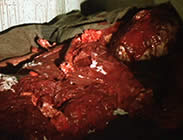 A crewless ship floats into the New York City harbor. The police discover numerous mutilated bodies inside the boat and a collection of pulsating avacado-shaped eggs aboard. The eggs start to explode causing the cops to explode too. Commander Stella Holmes begins a hunt to discover the origin of the eggs. She visits Hubbard, an astronaut who was part of a Mars expedition, but had been declared insane after ranting about seeing thousands of similar eggs inside a cave on the Red Planet. Hubbard had since turned to alcohol. However, his life has meaning again as he and Commander Stella begin tracking these lethal flesh-dissolving eggs. Their search takes them to a South American coffee plantation controlled by alien pod clones.
This is decidedly one of the better Luigi Cozzi films, filled with gore and exploding bodies. The film is so graphic that it was put on the British Video Nasties list of banned movies upon its release in 1980. Director Cozzi originally wrote the script as a proposed sequel to Ridley Scott's Alien but eventually decided to direct it himself (in some Euro countries it was released as Alien 2: Earth). Many members of the production crew [as well as lead actor Ian McCulloch] had just returned from working on Lucio Fulci's ZOMBIE FLESH EATERS when they signed aboard for this project. Quite possibly, that is the reason the two films look and feel similar. It's also interesting that each movie begins the exact same way (with appearance of an abandoned boat floating into NY Harbor) and both whisk the characters to South America for the confrontation.

Director Cozzi originally signed Caroline Munro to play Commander Stella Holmes (he had just worked with her in his previous STAR CRASH) but the producers convinced him that the role needed to be played by someone a bit older and "less attractive." Canadian actress Louise Marleau (POSSESSION OF VIRGINA) got the job. In turn, Cozzi hired upcoming German starlet Gisela Hahn for the supporting role of Perla de la Cruz. She would follow this performance with Jess Franco's DEVIL HUNTER: SEX CANNIBAL.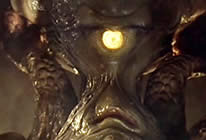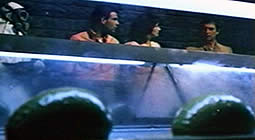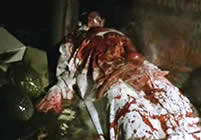 An Italian film in English language; widescreen windowbox format, uncut (96 minutes)
DVD encoded for ALL REGION NTSC FORMAT; extras include theatrical trailer.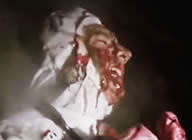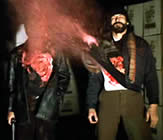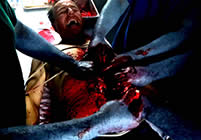 Graphic Violence/Excessive Gore
for Mature Audiences