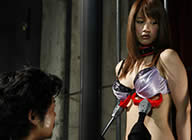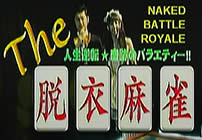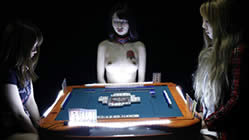 original Japanese title: DATSUI-MAJAN BATORU ROWAIARU [Naked Mahjong Battle Royale]

director: Mac P. Forever (Yasuchi Koshizaka with Ryosuke Ohmine)
starring Nina · Hiroaki Kawatsure · Anzu Sasaki · Runa Shimotsuki · Kaori Sasaki · Hitomi Usano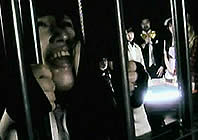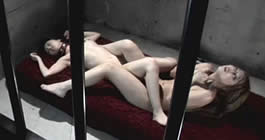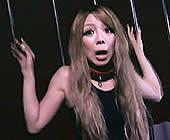 Of course you don't need to know anything about Mahjong to enjoy this film, but it helps. (Consider whether you need to fully understand poker to enjoy watching strip poker.) The plot deals with a group of four girls who have gotten themselves into a deep financial mess and now thanks to a new Reality TV show they have an opportunity to win a wagonload of cash that will bail them out of their problems. The contestants are a nervous housewife named Misuzu, Aoi a lawyer, washed up pop singer Yuka, and a delinquent slacker, Mira. They will play Strip Mahjong together; one will win 100 million yen while the rest will die naked.
The movie is a parody of reality shows poking fun at how jaded the society has become... a place where snuff films, torture and desperation pass for escapist entertainment. Of course it's offensive and clearly misogynistic. That's the point. This slice of pure exploitation was concocted by Yasuchi Koshizaka and Ryosuke Ohmine (under the alias Mac P Forever), the team behind MISSING 66 and MISSING 77.  * It is recommended for acquired tastes only, but for those in the market, don't forget about the Hong Kong CAT III actioner DIRTY MAHJONG SEX DEBT from 2009.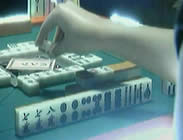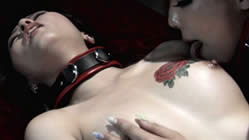 A Japanese film with English subtitles; widescreen format, uncensored and uncut version (77 minutes),
DVD encoded for ALL REGION NTSC; extras include original trailer.