Al Brescia's Sequel to Battle of the Amazons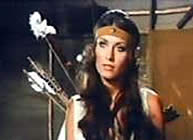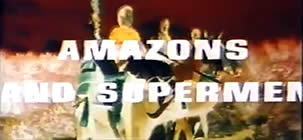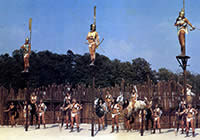 Original Italian Title: SUPERUOMINI, SUPERDONNE, SUPERBOTTE [Supermen, Superwomen, Super Fight]
also known as SUPER STOOGES VS THE WONDER WOMEN and RETURN OF THE BARBARIAN WOMEN

director: Alfonzo Brescia (as Al Bradley)
starring Malisa Longo · Aldo Canti (as Nick Jordan) · Yueh Hua · Magda Konopka · Karen Yeh · Genie Woods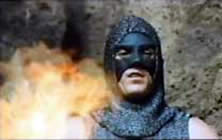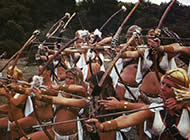 Three men with supernatural powers attempt to interfere in a tribal war to prevent evil Amazons from destroying the inhabitants of a village. After an unusually violent opening (which shows Amazon women competing against each other in death matches), the warriors set off to find a mountain god named Dharma to learn the secret of immortality. However, Dharma is a charlatan, an actor who has fooled the villagers for years. Not amused, the Amazons kill the impostor and decide to conquer the entire region. Meanwhile, the god is replaced by a young athletic superhero named Aru and he is determined to avenge the death of his friend Dharma. With two fighting friends [martial arts master Chang and a brawny black guy named Mug] he attempts to organize the oppressed village and challenge the Amazons.
In the mid '70s, Shaw Bros Studios of Hong Kong - hoping to increase maximum visibility worldwide - began making International co-production deals. They partnered with Britain's Hammer Films to make LEGEND OF THE SEVEN GOLDEN VAMPIRES; in Germany, they made a deal with Rapid Films for the amazing exploitation film VIRGINS OF THE SEVEN SEAS. And in Italy, they matched their biggest star, Lieh Lo with Lee Van Cleef for STRANGER AND THE GUNFIGHTER. They also tapped director Alonzo Brescia for this project. He had just come off his mega hit BATTLE OF THE AMAZONS (earlier in 1973), so Shaw Bros asked him to essentially revisit the same arena, include a few of their bankable performers while inserting a superhero theme to the mix. While obviously weird and quirky, it was second nature for filmmaker Brescia who spent a career doing weird and quirky.

Interestingly, very few of Brescia's cast from BATTLE OF THE AMAZONS returned for this sequel [Genie Woods was one of the few Amazon warriors to appear in both features], Instead, the lead roles were given to Malisa Longo (WAR GODDESS and PASSION PLANTATION), Magda Konopka (SATANIK and BLINDMAN)and Karen Yeh (who would later make GIRLS IN THE TIGER CAGE and its sequel).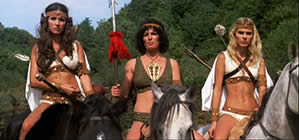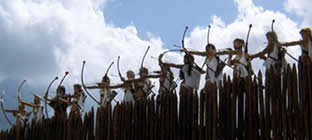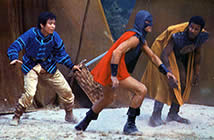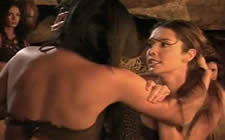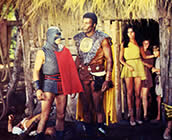 An Italian film in English language; widescreen [16:9] format, uncut (95 min.), DVD encoded for
ALL REGION NTSC, playable on any American machine. Extras include original trailer.