Sion Sono's Controversial, Elaborate 'Dirty Joke'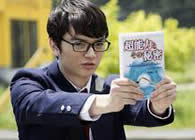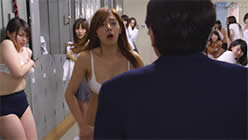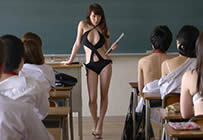 Original Japanese Title: EIGA: MINNA! ESUPâ DA YO! [Everyone Is Psychic: The Movie]

director: Sion Sono
starring Mika Akizuki · Tokio Emoto · Rika Hoshina · Eliza Ikeda · Shota Sometani · Erina Mano · Anna Konno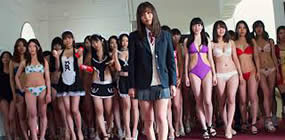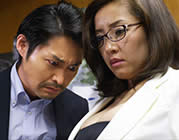 The film opens with Yoshiro masturbating as he fantasizes over his dream girl, classmate Sae. During his climax, there is a unique cosmic blast which shakes the atmosphere causing him (and numerous other teens who were also masturbating at the same time) to gain psychic powers. This group of ESP virgins band together on a mission to defend the world from evil psychics bent on destruction. At the same time, two researchers from Tokyo, Professor Asami and his big-breasted assistant Ms Akiyama (see above right) attempt to restore normality to the community but manage only to unleash even greater sexual calamity.
Many shocked International critics has dismissed this movie as Sion Sono's elaborate dirty joke. But despite all the preoccupation with short skirts, boners and big tits, there is an important comment on the necessity of treating sexuality as a natural part of the human experience. Based on the manga All Esper Dayo!  by Kiminori Wakasugi (known for DETROIT METAL CITY), Sion Sono continues his amazingly proficient creative output; this was his sixth production for 2015 (which also included TAG and TOKYO TRIBE). He always seems to push beyond the constraints of acceptability and good taste. With his diverse array of films like GUILTY OF ROMANCE, EXTE, SUICIDE CLUB, WHY DON'T YOU GO PLAY IN HELL?, he's proving himself to be the most important filmmaker in Japan today.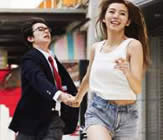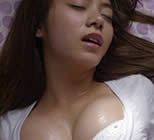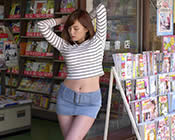 A Japanese film with English subtitles; widescreen format, uncut (115 min.), DVD encoded for ALL REGION NTSC, playable on any American machine. Extras including original theatrical trailer.