Shinsuke Sato's Huge Japanese Hit that has Rejuvenated the Zombie Genre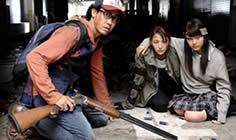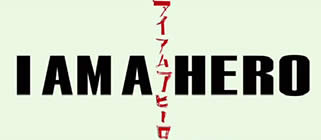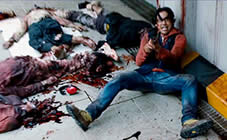 also known as ZQN

director: Shinsuke Sato
starring: Masami Nagasawa · Kasumi Arimura · Miho Suzuki · Yo Oizumi · Nana Katase · Hisashi Yshizawa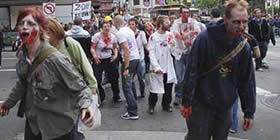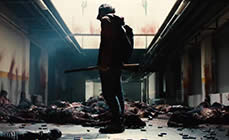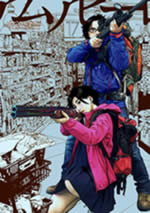 Remember how exciting (not to mention revolutionary) George Romero/Dario Argento's DAWN OF THE DEAD was in 1978? Now, after 30+ years of insipid films and anemic [American] TV series, the tired zombie apocalypse concept gets a refreshing shot in the arm from director Shinsuke Sato. Based on a manga series by Kengo Hanazawa (see book cover, right), this is the huge Japanese hit that has rejuvenated the zombie genre.
The story - thankfully - is not convoluted with 'love interests' and 'human strife,' but rather, it's a streamlined actioner that is surprising smart and gory-as-hell. Quite simply, struggling manga artist Hideo Suzuki finds himself fighting for survival during a zombie outbreak. He and an infected high school girl attempt to reach safety on the suburban side of Mt Fuji (the virus doesn't spread as fast in the cold) and but are forced to take refuge with a band of rebels in an outdoors shopping mall.
Director Sato has been involved in movies, TV programs and video games for the past two decades. Internationally, he is best known for the female swordswoman film PRINCESS BLADE. The incredible success of I AM A HERO has spawned a Japanese television series (2017+) with the same team of actors. Lead actress Masami Nagasawa has appeared in 75+ projects since 2000 including numerous TV projects and the reoccuring Twin Fairy character in various Godilla films, but - prior to I AM A HERO - she is probably best known for Japanese movie starring Gene Simmons [from Kiss] called DETROIT METAL CITY.
A Japanese film, with English subtitles; widescreen format, fully uncut (126 minutes),
DVD encoded for ALL REGION NTSC WORLD FORMAT; extras include original theatrical trailers.