North Korean Dictator Kim Jong-Il's 'Godzilla' film!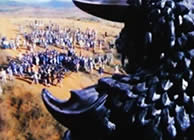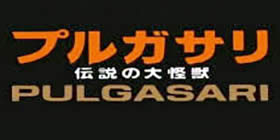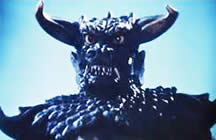 director: Shin Sang-Ok produced by Kim Jong-il
starring: Chang Son Hui · Ham Gi Sop · Ri Jong-Uk · Gwon Ri · Yu Gyong-Ae · Ro Hye-Choi
Jenpachiro Satsuma as Pulgasari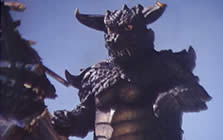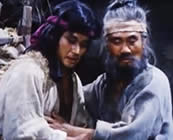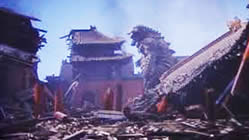 Kim Jong-Il, the Supreme Leader of North Korea (from 1994 until his death in 2011) was the producer for this film, proudly calling it 'the New Godzilla.' For the story, an evil King in feudal Korea becomes aware that a peasant rebellion is being organized. He steals all the iron from the people (including farming tools and cooking pots) to keep them from making weapons. An old blacksmith ignores the decree and uses his iron to create a tiny figurine of Pulgasari, a Godzilla-like creature that eats iron to survive. The blood of his daughter brings the monster to life and it joins the poor, starving peasants in their quest to overthrow the corrupt monarchy.
North Korean dictator Kim Jong-Il was a huge movie fan. His favorites were Friday the 13th (1980), Freddy vs Jason (2003), Rambo: First Blood (1982), and the original GODZILLA (1954). He was also a big fan of South Korean filmmaker Shin Sang-Ok (MY MOTHER AND HER GUEST, 1000 YEAR OLD FOX, et al) and wanted Shin to direct his Godzilla film. Since North and South Korea do not have diplomatic relations (they've been at war since 1951), Dictator Kim had Shin Sang-Ok and his wife kidnapped. They were taken to North Korea and forced to make this film. Shortly before PULGASRARY was finished, the two sought and were granted asylum in the United States. Shin Sang-Ok died in April 2006 after complications during a liver transplant. He was 79 years old. Supreme leader Kim Jong-Il died from a heart attack in December 2011, shortly after the release of his book The Art of Cinema Directing.
As a side note:
Kim Jong-Il was so dedicated to making his 'Godzilla' that he hired Jenpachiro Satsuma to be inside Pulgasari's rubber suit. Mr Satsuma is considered the best-of-the-best, having played the famous Godzilla monster for 25 years between 1971-1995.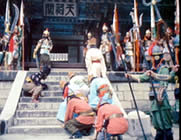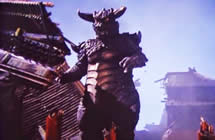 A North Korean film with English subtitles; fullscreen format (4:3), uncut (96 minutes), DVD encoded for
ALL REGION NTSC WORLD FORMAT; extras include original theatrical trailer.