Sequel to Steve Hawkes' TARZAN'S GREATEST CHALLENGE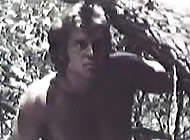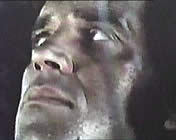 also known as TARZAN AND THE RAINBOW and TARZAN AND THE BROWN PRINCE

director: Manuel Cano
starring: Steve Hawkes · Kitty Swann · Peter Lee Lawrence · Robin Aristorenas · Agata Flori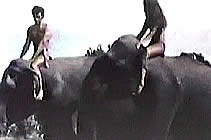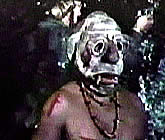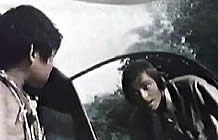 This movie didn't turn out the way it was supposed to. Both Steve Hawkes and Kitty Swan were badly burned in an on-set accident shortly after the filming began. As a result, the motion picture - originally called Tarzan and the Rainbow - was changed to Tarzan and the Brown Prince after serious rewrites were required. The new plot introduces a young boy named Nasu who competes in a death-defying challenge against a considerably older contender to become the new leader of a native tribe. Through creative editing/dubbing, Tarzan attempts to help Nasu win the contest (because he knows the other guy would be a bad ruler) but his real interest is to keep a group of nasty poachers from trapping protected animals. This was the original plot and fortunately director Cano had enough footage in the can to dedicate some of the film to it. By the end, after the bad guys learn of the existence of a secret Emerald stash, the plot changes yet again, thus the new title.
This mismatch was written by Umberto Lenzi (as Santiago Moncada) who also scripted the first Steve Hawkes Tarzan adventure, TARZAN'S GREATEST CHALLENGE. Kitty Swan was in that one as well. Both of their acting careers were halted permanently with the aforementioned disastrous fire. Ms Swan - at age 26 dropped completely from the limelight. Mr Hawkes, opened a Tarzan attraction/animal sanctuary in Loxahatchee Florida (10 miles outside West Palm Beach). He made headlines in 2004 when his pet tiger Bobo escaped from the compound and was shot (and killed) by the Fish and Wildlife Commission. Mr Hawkes attempted to sue the state for murder, but lost the case. Eight years later - in a supposedly unrelated incident - two tigers and a leopard were removed from his park due to incorrect federal permits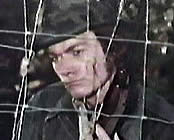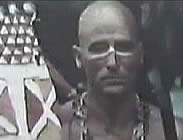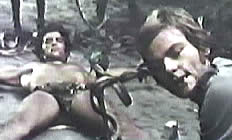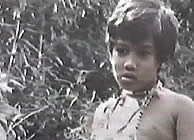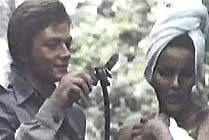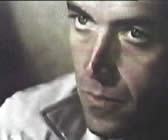 A Spanish film in English language with Spanish subtitles; fullscreen format (4:3), totally uncut version (90 minutes), DVD encoded for ALL REGION NTSC WORLD FORMAT. Extras include trailers.