Petra Scharbach and Moana Pozzi in Rare Italian Sex Comedy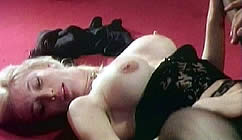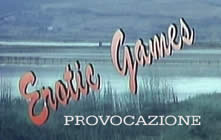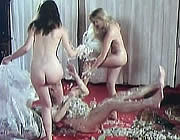 Original Italian title: PROVOCAZIONE [Summer Temptations]

director: Piero Vivarelli
starring: Moana Pozzi · Petra Scharbach · Marino Mase · Hula · Alessandro Vivarelli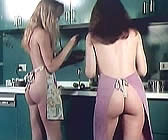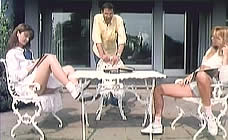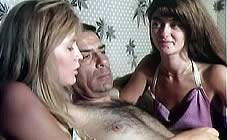 Vanessa is mourning the death of her rich husand. The provisions of the will clearly state that for Vanessa to continue living the good life she must raise and care for her stepdaughters, Kikki and Bebe, making certain they graduate from a good school. Vanessa knows the two girls are a BIG problem, certainly not prep-school material. So she recruits a former lover named Roberto - now a professor at a local college - to prepare them for the entrance exam. Shortly after his arrival, the two sisters decide to seduce him. He rejects their coy advances, preferring their mother instead, but eventually Kikki and Bebe find his weakness.This frothy narrative soon dissipaters when the sisters involve Roberto in a murder plot.
Petra Scharbach, playing Kikki here, moved to Italy - at an early age - from Frankfurt Germany. She became a fashion model in her late teens and then came to erotica after meeting director Pasquale Fanetti (aka,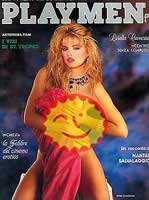 Frank De Niro) [see INVITING THE DEVIL TO DINNER for more details]. Her popularity landed Petra on the cover (and in the pages) of Playmen twice in the mid '80s [Playmen was the Playboy rival in Italy, publishing 30 years, from 1967-2002].
PROVOCAZIONE was directed by entertainment veteran Piero Vivarelli who found fame as a scriptwriter for the legendary Spaghetti Western DJANGO (1966) and then later for Joe D'Amato's EMANUELLE IN AMERICA (1976). He has directed only a handful of movies (best known for his pop-art caper SATANIK) although this movie shows he had a flare for erotic comedy. Mr Vivarelli died in September of 2010 at age 83.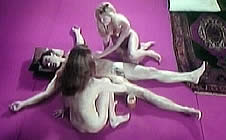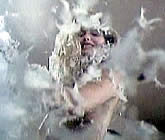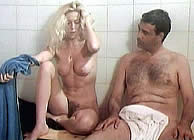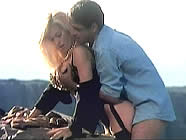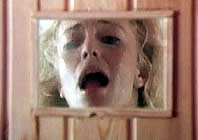 An Italian film in English language; widescreen format (16:9), totally uncut version (84 minutes), DVD encoded for ALL REGION NTSC WORLD FORMAT. Extras include trailers.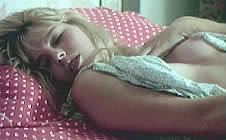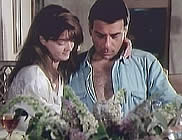 Violence/Sexual Themes/Male and Female Nudity
for Mature Audiences Only