Fabio Testi & Agnostina Belli in Lurid Jungle Exploitation Actioner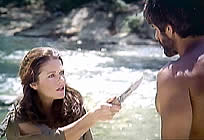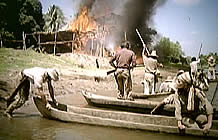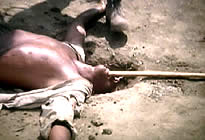 also known as SLAVE TRAFFICKING IN THE AMAZON
and ESCAPE FROM AN AMAZON SLAVE PLANTATION

director: Alberto Vazquez Figueroa
starring: Fabio Testi · Agnostina Belli · Jorge Rivero · Andres Garcia · Florinda Bolkan · Jorge Luke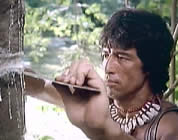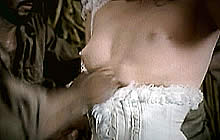 Set in the late 1880s, a rich slave trafficker named Sierra visits his rubber plantation set deep in the Amazon. Upon arrival, his first task is to punish his unfaithful mistress Claudia by throwing her to the slaves and watch as she is repeatedly gang-raped. Next, he plans to castrate Howard, a slave who had seduced Claudia. Another slave, the brooding Arquimedes, overhears the castration scheme and encourages Howard to go on the lam into the jungle. Those two, with Claudia and an Indian guide named Ramiro sneak into the wilderness for their trek towards freedom. They meet an array of dangers – from wild animals to cannibals, lack of food to the slave traffickers - and things intensify when they reach the notorious crime center of Manaos.
Made during the height of the Euro Cannibal/Jungle craze (CANNIBAL HOLOCAUST, CANNIBAL FERROX, EATEN ALIVE, et al) this film certainly is not as well know, but still manages to pack a wallop. It features Italian fave Fabio Testi, star of 100+ movies since 1969 (including WHAT HAVE YOU DONE TO SOLANGE, CRIME OF PASSION, ONE DAMNED DAY AT DAWN: DJANGO MEETS SARTANA, etc). He is fluent in English, Spanish and Italian which helped make him an International success. Today, he is married to Antonella Liguori; in the '70s Fabio was romantically linked to both Ursula Andress and Charolette Rampling. His co-star here, Agnostina Belli, made 60+ films, mostly between 1970-80 which include NIGHT OF THE DEVILS and WHEN LOVE IS LUST.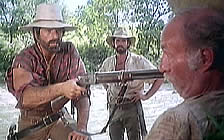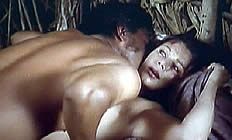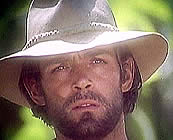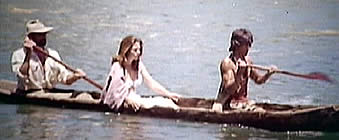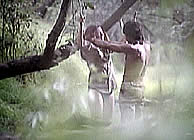 A Brazilian Film in English language; widescreen format (16:9), uncut print (90 min.), DVD encoded for ALL REGION NTSC, playable on any American machine. Extras include trailers.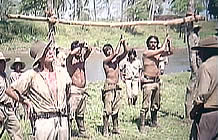 Graphic Violence/Nudity/Rape/Sexual Brutality
For Mature Audiences