Daniele Gaubet - Queen of Euro Mod Cinema - is Cat-Girl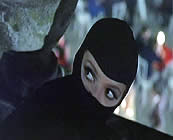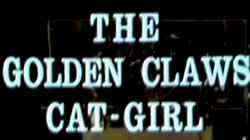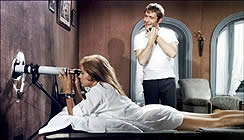 Original French title: LA LOUVE SOLITAIRE [Lone Wolf]
also known as GOLDEN CLAWS OF THE CAT-GIRL

director: Edouard Logereau
starring: Daniele Gaubert · Micahel Duchaussoy · Julian Guiomar · Carole Lebel · Albert Simono · Sacha Pitoeff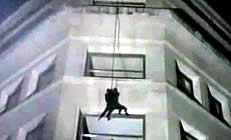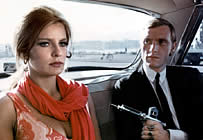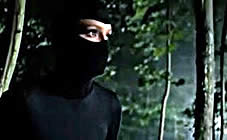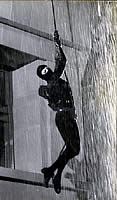 Based on Andre Saint-Aube's series of novels (followed by a comic strip), La Louve Solitaire deals with the exploits of a master female thief. Françoise Tilmont is a sexy real estate agent by day, but a silent cat-girl robber by night. The film begins with a burglary, certainly not her first. Masked, sleek Francoise sneaks into a chateau and fleeces the owners while they're having a dinner party. Ms. Tilmont's clandestine thievery has attracted the attention of government officials who need an operative to break-up a drug smuggling ring. They think Cat-Girl is perfect for the job. They were sorta correct.
    What a turbulent career for Daniele Gaubert! She co-starred in numerous big-bugetted mainstream movies (1960-64) before retiring to marry Rhadames Leonidas Trujillo, the son of assassinated the Dominican Republic dictator. Three years and two children later, that marriage ended in divorce. She returned to movies with a flair, as one of the leading actresses who became identified with the new European Mod Cinema. This film, CAT-GIRL embodied that movement. Meanwhile, Daniele met French Olympic triple-gold medalist Jean-Claude Killy. They became inseparable. Her popularity found Daniele in the pages of Playboy (May 1969) and the star of Radley Metzger's International erotic film Camille 2000. Ms Gaubert died from cancer at age 44 in November 1987.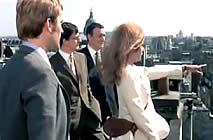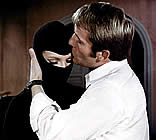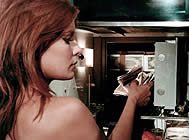 A French film in English language; widescreen format (16:9), fully uncut (89 minutes), DVD encoded for ALL REGION NTSC WORLD FORMAT. Extras include trailers.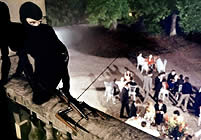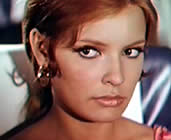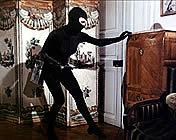 Violence/Sexual Themes/Espionage
for Mature Audiences