Grand scale sleaze from Toei Studios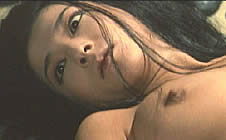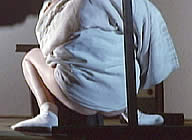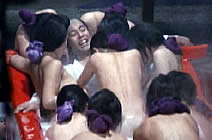 Original Japanese Title: OOKU UKIYO-BURO
also known as CONCUBINE'S PALACE and THE GENERAL AND HIS EMPIRE OF JOY

director: Ikuo Sekimoto
starring: Eiko Matsuda · Tokuko Watanabe · Maya Hiromi · Masaru Shiga · Reiko Ohara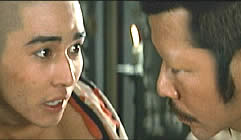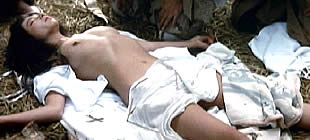 Samurai Ryuken meets an attractive young woman named Okoyo. He would like to know her better, but she's already betrothed. Okoyo is one of the virgins promised to the Shogun for his ever-expanding harem. Ryuken is perturbed by the situation and willing to risk everything - even certain castration - to rescue Okoyo from the Concubine Palace. He concocts a plan to deflower Okoyo before the emperor has a chance to do it. By blackmailing a monk (the holy man enjoys buggering young boys, and Ryuken finds out about it), the love-sick samurai gains access to the castle through a secret passageway under the women's bathroom [she photo below of Ryuken looking up from the toilet sewer under the maiden's butt].
The plot is ripe for an array of sexual fetishes. And director Ikuo Sekimoto is not shy about exploiting them all. Sekimoto cut his teeth on delinquent action movies for Toei Studios in the early '70s. After directing this film in 1976, he joined the Nikkatsu stable for a series of pink films (including Empress in 1983). He would later re-join Toei for more mainstream erotica like Whorehouse Women: Fighting for Survival (1994) starring SUKEBAN DEKA girl Yoko Minamino. Actress Tokuko Watanabe, who plays Okoyo here, was a popular Nikkatsu starlet best known for her role in WATCHER IN THE ATTIC.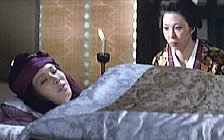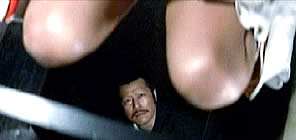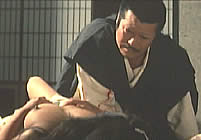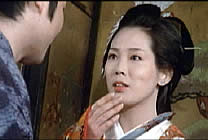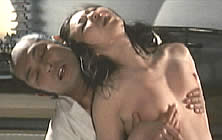 A Japanese Film with English subtitles; widescreen format (16:9), fully uncut print (88 min.), DVD encoded for ALL REGION NTSC, playable on any American machine. Extras include trailers.