Whip-Wielding Hero Challenges Killer Mummies!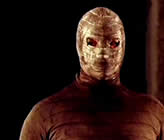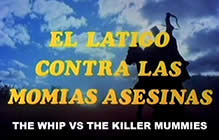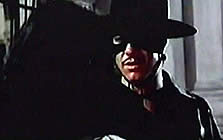 original Mexican title EL LATIGO CONTRA LAS MOMIAS ASESINAS
also known as LATIGO AGAINST THE MUMMY ASSASSINS
director: Angel Rodriguez Vázquez
starring: Juan Miranda ˇ Rosa Gloria Chagoyan ˇ Marco D'Carlo ˇ Manuel Leal El Tinieblas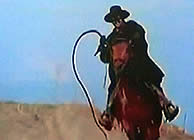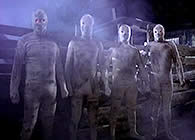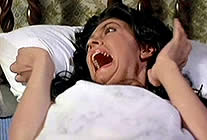 This film, unlike its predecessor THE WHIP AGAIN SATAN, is set in contemporary Mexico (circa 1980) rather than the 1890s. However, the story often jumps from a modern Mexico, back 100 years and then forward again. Essentially, the plot deals with an angry Mayan warlock who puts a curse on his daughter Salgra and her family because she had married out of her race. He resurrects deadly Yucatec mummies to deal with the sacrilege of mixing blood and tainting cultures. After the mummies slaughter Salgra and her children, they are killed by husband Alfonso. The warlock vows to return in 100 years with his mummies to seek revenge against the Ibarrola family. Superhero Latigo, now vacillating between himself and the reincarnated Alfonso, prepares for the supernatural conflict against the Mayan creatures.
The breakout film for actor Juan Miranda was Meche Carreno's controversial movie BLOOD ENEMY [he played Sergio, the retarded brother seduced by his sister]. He later became a popular matinee idol type, starring in numerous genre actioners, many with 'whip' themes [ie., El Zorro Blanco (White Zorro) and the aforementioned Latigo]. Mr Miranda retired from motion pictures in 1989 and died 20 years later from a a heart attack at age 68, July 2009.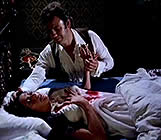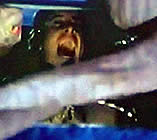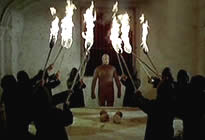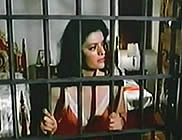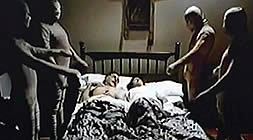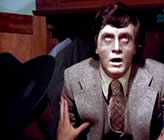 A Mexican/Spanish film with optional ON/OFF English subtitles; widescreen uncut (82 min.);
for ALL REGIONS, playable on any American DVD machine

    

For Mature Audiences