Emilio 'Indio' Fernandez directs Meche Carreno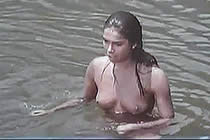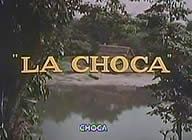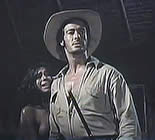 original Mexican title: LA CHOCA [Choca]
also known as THE SHOCK

director: Emilio Fernandez (Emilio 'Indio' Fernandez)
starring: Meche Carreno (Mercedes Carreno) · Gregorio Casal · Pilar Pellicer · Armando Silvestre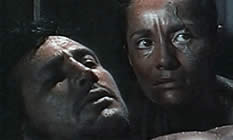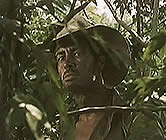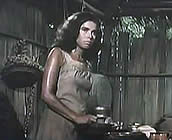 Set in the savage Oaxaca jungle, here is the story of a misfit family destroyed by the destructive power of passionate lust and explosive violence. Martin lives in a remote cabin with his wife Choca and their young boy. His sister Flor also lives there along with his father. Martin joins a group of smugglers to take drugs across the border but then he accepts a bribe from the federal police and sets a trap for his gang. The betrayal results in numerous deaths and the complete loss of the cargo. The surviving gang members decide to take revenge against Martin and his family. They raid the cabin and prepare to attack Martin when he come home. Soon, all hell breaks out, resulting in an avalanche of murder, rape and carnage.
Director Emilio "Indio" Fernandez, best known Internationally for his role of Gen. Mapache in Sam Peckinpah's Wild Bunch (1969), was an award-winning Mexican actor and director, responsible for 80+ films in 50 years. Many international critics honored him as that country's best filmmaker. He won the Best Director Award for this movie at the 1975 Academia Mexicana de Artesy y Ciencias Cinematograpficasin [Mexico's Academy Awards]. The film also won Best Picture plus best acting awards for both Pilar Pellicer and Meche Carreno.
Mercedes [Meche] Carreno was a controversial top-tier Mexican actress throughout the '70s and '80s, never shying away from 'dangerous' roles as demonstrated by her 1971 breakout film BLOOD ENEMY. Her official first project was SANTO VS BARON BRAKOLA (1967); Miss Carreno retired after El Día de las Sirvientas [Day of the Servants] in 1989.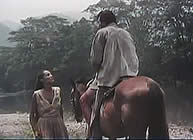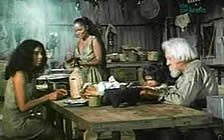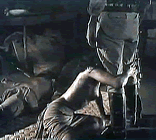 Mexican production with optional ON/OFF English subtitles; fullscreen, uncut version (89 min.)
encoded for ALL REGION NTSC, playable on any American DVD machine