Sexual Infidelity, Blackmail, Murder and Suicide plague
a Fashion Agency and its Nymphomaniac Owner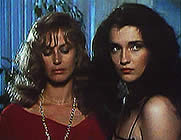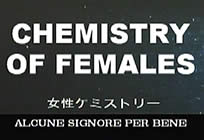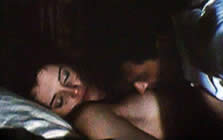 original Italian title: ALCUNE SIGNORE PER BENE [Some Women Are Good]
also known as FAMILY JEWELS and LADY DOLLS and SCANDALOUS LIASONS

director: Bruno Gaburro
starring: Florence Guerin · Dalila Di Lazzro · Eva Grimaldi · Giovanni Vettorazzo · Rossy de Polma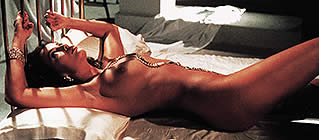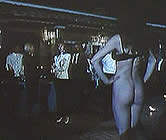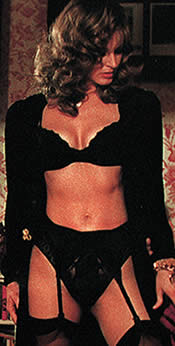 Sexual intrigue swirls inside fashion agency owned by the wealthy and ruthless Helen. When ace photographer Donatella complains about the excessive sleaze, she is promptly fired [but returns later in the film for her own revenge]. Helen has more important things to worry about, namely keeping track of her many affairs, especially the sex drives of a senator named Mark and horny musician, Paul. Then, before long, Paul introduces his girlfriend Corrine to Helen and the two women begin a torrid affair. Meanwhile, new photographer Dick wants to blackmail the Senator so he starts whoring a porn model named Kiki. But, eventually everything spins out of control with a double murder and suicide.
  Bruno Gaburro shot this film while he was making JEALOUS EYES (also with Dalila Di Lazzaro) and he used some of the same scenes, dubbed with different dialogue, for both films. Bruno did the same thing a few years earlier when he shot MALADONNA and MALOMBRA together.
  Florence Guerin has made 50+ movies - including many genre favorites [i.e., the Giallo TOO BEAUTIFUL TO DIE, Jess Franco's PREDATORS OF THE NIGHT , et al] - since her since her first major role in CLICK. After a automobile accident in May 1998 - which resulted in a lengthy coma and the death of her only son, Nicolas - she returned to acting under the name of Florence Nicolas. She is still active today.
  Eva Grimaldi, playing the naughty but funny porn starlet Kiki here, was born Milva Perinoni in 1961). Her debut film was Joe D'Amato's CONVENT OF SINNERS and she would continue a career through 50+ genre films over the next 30 years, including Lamberto Bava's MASK OF THE DEMON, Claude Chabrol's QUIET DAYS IN CLICHY, Giuliano Carmineo's RATMAN, and OBSESSION: A TASTE FOR FEAR. She is still acting today.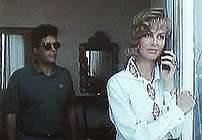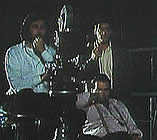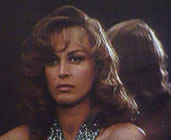 An Italian film in English language with permanent Japanese subtitles (see below);
Fullscreen format, uncut 96 minutes), DVD encoded for ALL REGION NTSC WORLD FORMAT.
Extras include selected trailers.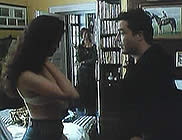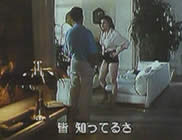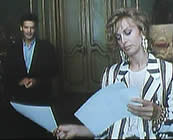 Sexual Situations/Nudity/Drugs/Violence/Rape/Sexual Brutality
for Adult Audiences