If Tarantino Had Directed EL TOPO...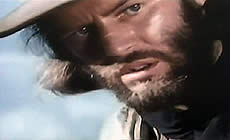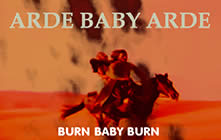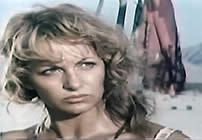 Original Spanish Title: ARDE BABY ARDE [Burn Baby Burn]
Original Italian Title: SERPENTE A SONAGLI [Rattlesnake]
also known as: DEAD AIM and JUCKY JOHNNY: BORN IN AMERICA

director: Jose Antonio Bolanos
starring: Glen Lee · Venetia Vianello · James Westerfield · Barbara Angely · Virgil Frye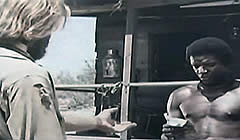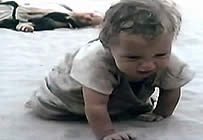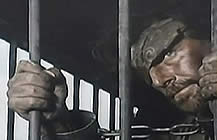 While riding through the desert, a traveling gravedigger notices three dead bodies in the sand... obvious victims of a gun fight. He also spots a baby crawling towards a rattlesnake. Gravedigger Kelly rescues the infant and 'adopts' the boy, naming him Johnny. As the child grows, he and the old man travel the West performing their professional burying duties. When the business starts to slow down a bit, Johnny adds a stimulus by shooting people. Their dream is to open a fancy funeral parlor so Johnny approaches his 'dad' with the idea of robbing a bank but Kelly resists. Johnny begins to grow weary of their wandering, dead-end life and he becomes obsessed with a prostitute named Sara after she's abandoned by her outlaw partner. Johnny leaves the gravedigger to join the whore but ends up finding insurmountable trouble.
This violent Spaghetti Western is a co-production between Mexico and Italy, directed by Mexican playboy filmmaker Jose Bolaņos. Although married to European actress Venetia Viaņello, he claimed (in a 1962 interview with Hollywood's Motion Picture Magazine) that he had been dating Marilyn Monroe and that they were planning to marry. Shortly after that report, Ms Monroe was found dead, the victim of suicide at age 36. Jose Bolaņos would direct only two other films, officially retiring in 1978. He died from a heart attack in Mexico City, June, 1994. He was 58 years old.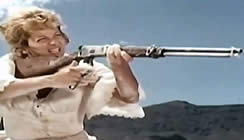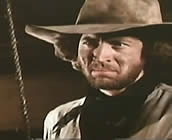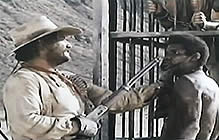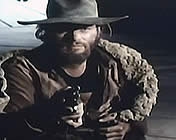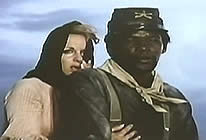 A Mexican / Italian production, shot in English language; widescreen format,
uncut 88 minutes; DVD encoded for ALL REGION NTSC WORLD FORMAT.
Extras include selected Spaghetti Western trailers.


Graphic Violence/Sexual Situations
for Mature Audiences