A Rare Girls-n-Guns Double Feature
Yukari Oshima · Sibelle Hui · Yoko Miyamoto · Sharon Kwok · Maria Jo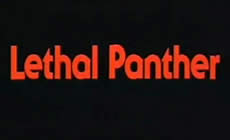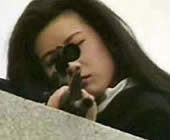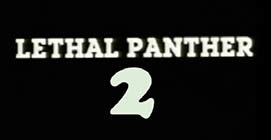 1. LETHAL PANTHER (1990)
Original Chinese Title: JING TIAN LONG HU BAO [In View of the Tiger's Treasure]
also known as DEADLY CHINA DOLLS
director: Godfrey Ho
starring: Sibelle Hui · Yoko Miyamoto · Maria Jo · Tony Tam Chun-To · Alex Fong · Lawrence Ng

1. LETHAL PANTHER 2 (1993)
Original Filipino Title: MAGKASANGGA SA BATAS [Strike The Law]
also known as LETHAL DRAGON
director: Phillip Ko with Erwin Lanado (as Cindy Chow)
starring: Yukari Oshima (as Cynthia Luster) · Sharon Kwok (as Stella Mari) · Edu Manzano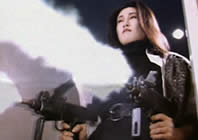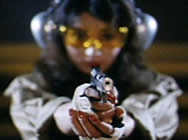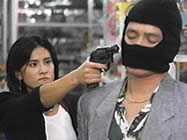 In the first feature, two tough female killers are fighting against each other, but they have a common enemy in Albert, a gangster (played by Lawrence Ng), who had his uncle killed so he could become the new big boss. And he definitely doesn't want witnesses sticking around. Impressive camera work, exciting gunplay, and energetic fight choreography, plus a handful of sleazy and gratuitous sex scenes, make this a must-see girls-n-guns opus from Godfrey Ho.
   Fighting diva Yukari Oshima headlines the second feature, set in the Philippines, directed by stuntman Phillip Ko (who was also married to Oshima for a brief time in the early '90s). The story deals mainly with a reckless cop hunting down the brutal criminals who killed his wife and mother.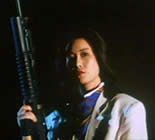 A Double Feature (one Hong Kong and the other Filipino) on two DVDs, both in English language. Fullscreen format, uncut 92 + 86 minutes), Yukari * Oshima
DVD encoded for ALL REGION NTSC FORMAT.
Sexual Situation/Nudity/Graphic Violence/Sexual Brutality
for Adult Audiences