Assumpta Serna in Remarkable Nunsploitation Tragedy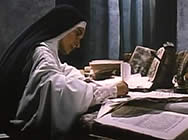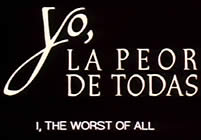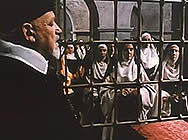 Original Argentinean/Mexican Title: YO, LA PEOR DE TODAS [I, The Worst of All]

director: Maria Luisa Bemberg
starring: Assumpta Serna · Dominique Sanda · Hector Alterio · Lautaro Murua · Graciela Araujo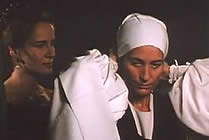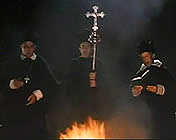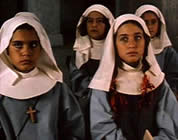 In the mid 17th Century, a Count and an Archbishop relocate from Spain to take their new posts in Mexico. A local nun, Sister Juana Inés intrigues them. The Count and his wife find her brilliant and fascinating while the Bishop sees her as an example of the current laxity within the Catholic religion. He manipulates the election for a new mother superior, the severe Sister Ursula who is given the task of subduing the rebel nun. Meanwhile, Virreina - the wife of the Count - visits Sister Juana often, appealing to her intellectual side and convinces her to write passionate poetry (which the Archbishop finds scandalous). The nun is punished for her explicit compositions but the Count protects her. Then, he and his wife are summoned back to Spain. With no one to intercept on Sister Juana's behalf, she becomes the target for excessive retribution.
This film is based on the true account of the infamous Mexican nun, Sister Juana Inés de la Cruz (1651-1695). It is a South American production, directed by Argentinean Maria Luisa Bemberg, a respected writer/filmmaker who helmed a handful of movies, but was better known for her political activities with the Unión Feminista Argentina [Feminists of Argentina]. The film was submitted to the 63rd Academy Awards (in 1991) for the 'Best Foreign Language Film' category but was rejected for its lesbian content. There is a true lesbian aspect to this film as Sister Juana achieves her greatest triumphs while operating inside the all-female world of the convent and - further - her writing reflects an explicit female observation of women's oppression. However, unlike [the only other example of Nunsploitation in Mexican Cinema] SATANICO PANDEMONIUM, this one does not rely on flesh and sexual coupling to make its point. Rather, here is a true-life tragedy about wasted talent and unbridled misogyny within the Catholic Church.
Lead actress Assumpta Serna [born María Asunción Rodés Serna in Barcelona, September 1957] studied Law but abandoned it for acting. Her career has spanned 125+ films worldwide and she has made movies in all of the six languages she speaks: Catalan, Spanish, Portuguese, French, Italian and English. Ms Serna has won more than twenty best actress awards throughout the world since 1979. She is best known to Cult fans for her performance in Jorge Grau's home-invasion thriller CODE OF HUNTING and for her reoccurring role of the witch Baba Yaga in the Italian TV series VALENTINA. Assumpta Serna is still actively making movies today.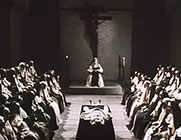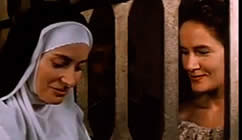 An Argentinean/Mexican film with English subtitles; widescreen format (16:9),
109 minutes, encoded for ALL REGION NTSC, playable on any American machine.
Extras include selected theatrical trailers..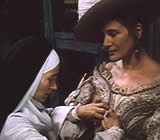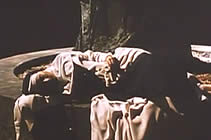 Violence/Whipping/Lesbianism/Sexual Brutality
for Mature Audiences