The Movie Presented Here - while Not Pristine -
Remains One of the Only Known Prints to Exist.
PLEASE NOTE:
THE SCREEN IMAGES ON THIS PAGE SHOW THE OVERALL QUALITY OF THIS FILM.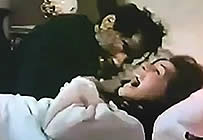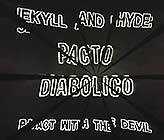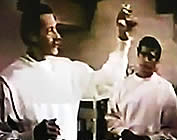 Original Mexican title: JEKYLL AND HYDE PACTO DIABóLICO
[Jekyll and Hyde Pact with The Devil]

director: Jaime Salvador
starring: John Carradine ˇ Isela Vega ˇ Miguel A Alvarez ˇ Regina Torne ˇ Andres Garcia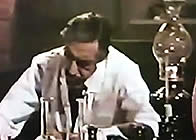 Dr Jekyll's daughter comes home from school to assist her guardian, Dr Holbeck in his experiments for an eternal youth elixir. He believes the solution is found in the retina of the female human eye. Of course, he needs a constant supply of eyeballs, but fortunately any lady will do. After drinking this potion, Dr Holbeck becomes a considerably younger man who claims to be a long lost nephew. But he can't sustain his new identity for any length of time because - without the eyeball formula - he transforms into a murderous black man.
This incredibly rare film is loosely based on Robert Louis Stevenson's classic novella and stars Hollywood ham icon John Carradine in the Dr Holbeck role. Shot in Mexico by that country's veteran Jamie Salvador, a filmmaker with over 100 projects to his name (since 1939). This would be one of his final motion pictures as an illness forced his retirement later that year. Jaime Salvador died from a stroke in October 1976 at age 74.
This movie was one of a handful made by actor John Carradine in Mexico at the time. He would travel the world, appearing in one film after another (he often mused: "Why do I have a house if I'm never home"). In fact, he made almost 400 movies between 1930-1995, dying of natural causes in Milan Italy at age 82, November 1988. His final films were the genre classics Gerard Kikoine's BURIED ALIVE, Lana Wood's DEMON RAGE and EVILS OF THE NIGHT.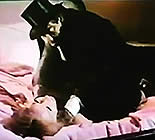 A Mexican/Spanish film with English subtitles; fullscreen format (4:3), 85 minutes,
encoded for ALL REGION NTSC, playable on any American machine.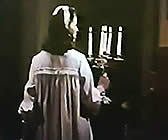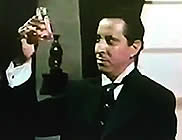 Graphic Violence/Sexual Brutality
for Adult Audiences