When the Left Hand Doesn't Know
Who the Right Hand is Killing!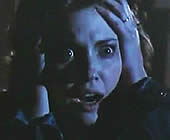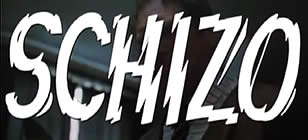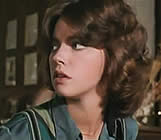 Also Known As: AMOK! and BLOOD OF THE SCHIZO

director: Pete Walker
starring: Lynne Frederick · John Leyton · Stephanie Beacham · John Fraser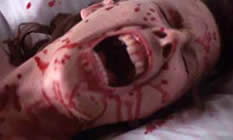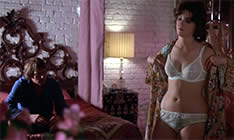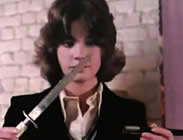 Samantha and Alan have married, but William Haskins isn't pleased. He boards a train south to London and begins shadowing Samantha as she adjusts to her new life. For whatever reason, Haskins tries to frighten Samantha. She becomes anxious but has trouble convincing anyone that she's being stalked or is in danger. Even her psychologist dismisses Samantha's concerns as part of a neurosis complicated by her new married life. However, as bodies begin turning up, Samantha's story seems more believable. And a dark secret from the past begins to reveal itself.
Despite the introductory voice-over which insists "schizophrenia is likened to multiple personality disorder," those are two different conditions. One is a disruption in the perception of reality while the other is the existence of more than one personality within the same person. However, this IS description of the Norman Bates character in Alfred Hitchcock's Psycho and that was really the goal of director Pete Walker for this Hitch knockoff. Walker spent most of the '70s helming a wide variety of terror films (from HOUSE OF WHIPCORD to DIE SCREAMING MARY ANN) and - as a result - became known as the King of British Horror. But each of his movies were unique, especially with regards to subject matter. Walker once said that was what he most admired about Hitchcock, "while essentially each film is a thriller, the foundations are profoundly different." For this venture, after six hit projects, Walker decided to pay homage to Hitchcock's most famous movie. Like other independent filmmakers, Pete Walker started his career in the sexploitation market with SCHOOL FOR SEX in 1969. He moved to thrillers a year later. Walker became weary of the Industry - particularly of the Video Nasty mania that resulted in blanket UK censorship - and retired in 1983. Today he lives in Sussex where he is a land developer and operates a chain of theaters.
His star in this film, Lynne Frederick, was once described as "the Olivia Hussey [or Emma Watson] of her day." Her first film was Cornel Wilde's 1970 epic NO BLADE OF GRASS, followed by some British television and a number of Italian genre films (including Lucio Fulci's Spaghetti Western FOUR OF THE APOCALYPSE and Joe D'Amato's Red Coat), but she is best known for being the fourth [and final] wife of the much-older Peter Sellers. The marriage itself branded her as a gold digger and the Film Industry turned its back on her. The couple moved from London to Hollywood in 1980 but they were constantly Media fodder for their extravagant lifestyle of drugs, alcohol and wild parties. Peter Sellers died from a stroke in August of that year; Lynne inherited his entire fortune. Her life continued a downward spiral and Lynne Frederick was dead from alcoholism at age 39 in April of 1994.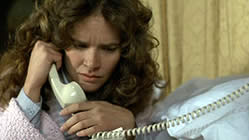 A British film in English language; widescreen format (16:9), 110 minutes,
encoded for ALL REGION NTSC, playable on any American machine.
Extras include selected trailers.




Graphic Violence/Sexual Brutality/Nudity
for Adult Audiences