Horror Sleaze with Cameron Mitchell & Jennifer Holmes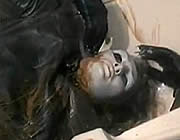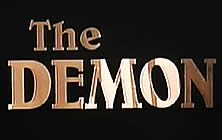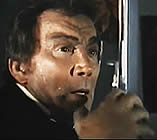 also called MIDNIGHT CALLER and NIGHT DEMON

director: Percival Rubens
starring: Cameron Mitchell · Jennifer Holmes · Craig Cardner · Zoli Markey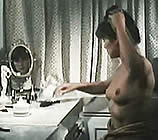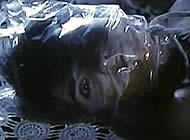 Bill Carson is an ex-marine with psychic abilities. He is investigating the abduction and [possible] murder of a 14 year old girl. The maniac responsible - known as the Demon - is stalking his next victims, gorgeous 18 year old brunette Jo and her blonde cousin, a schoolteacher named Mary. The psychic Bill claims to be in contact with 'higher forces' and does things like sniff a missing girl's pillow for clues [does that really work?]. He's smart enough to predict his own death, yet he does not make any efforts to prevent it. In fact, this hero gets eliminated long before the film's end, forcing Mary to run frantically through the house in the nude when cousin Jo is murdered. But truthfully, watching naked Mary as she struggles to climb from an attic window probably makes up for all the negatives of the film.
Over the years, critics have railed against this movie, often citing the gratuitous nudity, the thin characterizations [especially with regards to the mysterious hulking maniac] and the overt sexual brutality as key complaints against it. But those same elements have also been the building blocks for many horror films over the years. In fairness, however, there are some severe problems with the story. For instance, the Demon wears leather gloves with razors for fingernails but NEVER uses this killing tool, opting instead for a plastic-bag-over-the-head trick. He, himself, hides his identity with a mask but often there are scenes showing him without it. And, even though the conclusion satisfies on a purely exploitative level, it's impossible to believe the victim can't figure out how to get out of her OWN HOUSE. The man behind this notoriously cockeyed movie is South African filmmaker Percival Rubens. Most of his projects never make it beyond the African borders, but this one found International distribution, probably because Rubens managed to snag Cameron Mitchell at a time when the star was in desperate need for a paycheck and because he found two attractive actresses who didn't object to mindlessly shedding their clothes throughout the film.
Cameron Mitchell, after establishing himself as Buck Cannon on the hit TV series High Chaparral (1966-71), became involved in numerous European peplums (Mario Bava's KNIVES OF THE AVENGERS), fantasy/actioners (SUPERSONIC MAN) and Spaghetti Westerns (Sergio Corbucci's MINNESOTA CLAY). He eventually returned to the United States for a decade of B-Movies and grindhouse fare, always generally considered 'higher quality' because of his involvement. He was especially appreciated for his role in TOOLBOX MURDERS and NIGHTMARE IN WAX. Cameron Mitchell was a heavy smoker who, after starring in 200+ projects, died of lung cancer at the age of 75 in July 1994.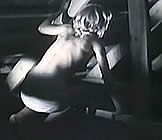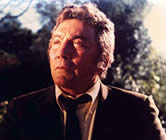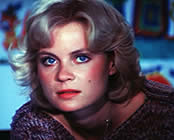 A South African film in English language; fullscreen format (4:3), 94 minutes, encoded for ALL REGION NTSC, playable on any American machine. Extras include original selected trailers.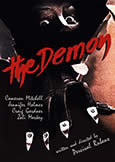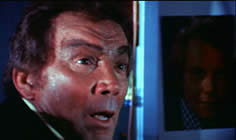 Nudity/Graphic Violence/Sexual Brutality
for Adult Audiences