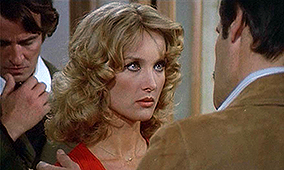 original Korean title: DAEHAKNO-YESEO MAECHOON-HADAKA
TOMAKSALHAE DANGHAN YEOGOSAENG AJIK DAEHAKNO-YE ISSDA
[Teenage Hooker Who Died and Became a Killing Machine in Daehakno]

director: Nam Gee-Woong
starring: Lee So Yun · Kim Dae Tong · Bae Soo-Baek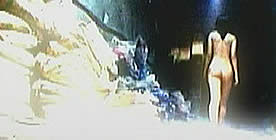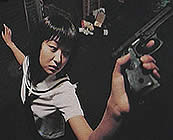 A brutalized teenage prostitute - chopped to pieces by her perverse teacher and his wacky assistants - is brought back to life by a mysterious scientist. After being reassembled, she is reanimated and transformed into a cyborg angel-of-death with a taste for vengeance.
This amazing pop culture gorefest was gushingly reviewed by David Aaron Clark in Asian Cult Cinema Magazine #39 when he wrote: "The schoolgirl's resurrection is a moment of dime-store religious awe and transcendence summoning up echoes of both Joan of Arc and Metropolis." Shot in a multitude of grainy hues, the film seems to straddle the line between art and trash. Scenes are exquisitely crafted, far beyond the extremely low-budget nature of the film, immediately recalling legendary cyberpunk entries like Shinya Tsukamoto's TESTSU and BULLET MAN as well as Shozin Fukui's PINOCCHIO 964.

A few years later, director Nam Gee-Woon would release the excellent erotic thriller KISS PROFANE before turning his talents to composing and producing fringe electronic music.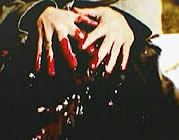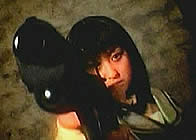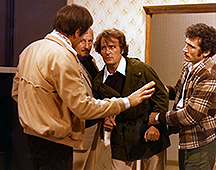 A Korean film with English subtitles; widescreen (16:9), (62 min.) version in DVD encoded for REGION ONE NTSC, playable on any
American DVD machine. Extras include selected trailers.




Graphic Violence/Adult Material/Nudity/Sexual Brutality:
Recommend for Mature Audiences