Jorge Grau's Mega Rare Nunsploitation with Lina Romay!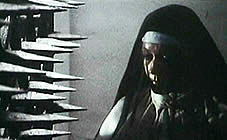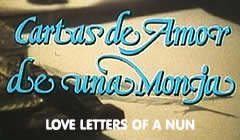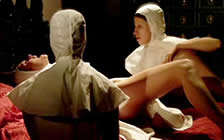 director: Jorge Grau
starring: Analia Gade · Lina Romay · Alredo Alcon · Teresa Gimpera · Carmen Fortuny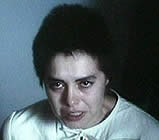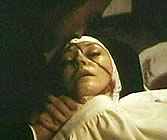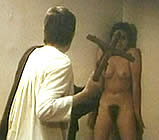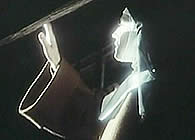 In 1640, during the Spanish Inquisition, Mother Superior Mariana runs a remote convent where her sister Isabella - recently widowed - takes refuge in an attempt to leave the secular world. Meanwhile, Mother Mariana has a hard time resisting her human impulses and is conducting an affair with her confessor priest which leads to anguish and torment.
Probably the rarest of Jorge Grau's genre films, this is a somber slice of erotica based on a novel by Gemma Arquer (who also wrote the screenplay with Mr Grau). At the same time, in nearby Germany, Jess Franco was also directing his own version of the story which he called LOVE LETTERS OF A PORTUGUESE NUN. Interestingly, Lina Romay (Franco's muse who stars in most every one of his films from this period) appears in this Jorge Grau project, NOT the Franco production.
Jorge Grau is best known Internationally for his excellent LET SLEEPING CORPSES LIE but he also found success with Ewa Aulin's LEGEND OF BLOOD CASTLE and the home-invasion thriller CODE OF HUNTING. He retired from the Industry in 1994 and today - approaching his 90s - Mr Grau lives comfortably in Barcelona Spain.
Besides Lina Romay, this cast also included two other titans of European cinema. Analia Gade is an old-school Spanish actress who started her career in the early '50s. She was perfect here as the tormented Mother Superior but she's best remembered to genre fans for MURDER MANSION in 1972. Teresa Gimpera - born Teresa Gimpera Flaquer in Barcelona - has appeared in 100+ films since 1965, making movies throughout Europe. She made a variety of Westerns (usually with her husband actor Craig Hill) but is best known for the thriller MACABRE (1969).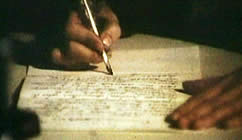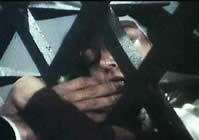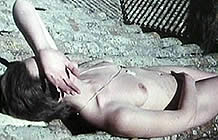 A Spanish production with English subtitles; widescreen format, uncut (106 minutes),
DVD encoded for ALL REGION NTSC WORLD FORMAT; extras include selected trailers.