The First of the Contemporary 'Jungle Girl' Films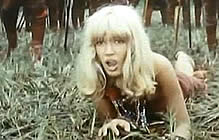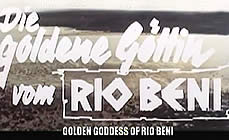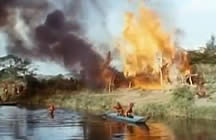 original German title: DIE GOLDENE GITTIN VOM RIO BENI [Golden Goddess of Rio Beni]
original Spanish title:DUELO EN EL AMAZONAS [Conflict in the Amazon]

director: Eugenio Martin (with Franz Eichhorn)
starring: Pierre Brice · Gillian Hills · Harald Juhnke · Rene Deltgen · Hans Von Borsody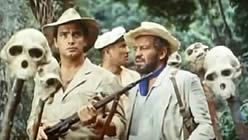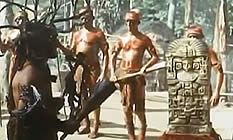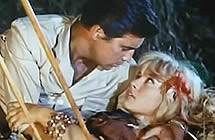 Under strange circumstances, an airplane is lost in the Brazilian Amazon jungle without any further communications. This leads an oil company pilot named Jim (Pierre Brice) to organize an expedition to find the plane and rescue his missing colleague. Jim puts together a [suspicious] bunch including an alcoholic translator and a pair of charlatans with jungle expertise. By convincing them that he is really searching for the Golden Goddess of Rio Beni, a statue of great wealth protected by the natives, they agree to the search. The motley crew delves into the rainforest and immediately falls victim to one danger after another before finally confronting a brutal aborigine tribe with a keen hatred for outside intruders. Along the way they also rescue Aloa (Gillian Hill), a white girl who is both honored and imprisoned by the savages.
While 'jungle girl' movies have been a staple of adventure cinema for countless years (1931's BLONDE CAPTIVE), this Spanish/German production is generally considered the first of the genre's contemporary ventures which would soon populate the European landscape with a bevy of contenders including LUANA, GUNGALA, LANA, SAMOA, KILMA, TARZANA, et al. For this film, director Eugenio Martin recruited Gillian Hills, an Egyptian-born British actress to play the exotic jungle girl Aloa. Today, Gillian has retired from motion pictures and is working with her husband Steward Young, the manager of the rock band AC/DC. Back in the day, she made a name for herself with the controversial BEAT GIRL (1960) followed by appearances in legendary films Clockwork Orange and Blow-Up. She also enjoyed a recording career with the French Barclay Records.
The film stars Pierre Brice, a descendant of old French nobility. This was an early project for him, preceded by MILL OF THE STONE WOMAN and GLADIATOR BONDAGE SEXY. Shortly after the release of this film he became the American Indian ¨Winnetou¨ character for a German-made Spaghetti Western franchise (which included 12+ films and a TV series). As a result, he was one of the most famous and most loved actors in Europe. Pierre also starred in the Italian-made erotic thriller NIGHT OF THE DEMONS SEXUELLE in 1972. Mr Brice died from natural causes at age 85, in June 2015.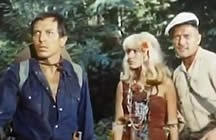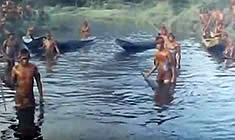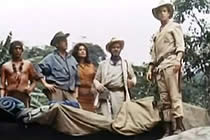 A Spanish/German co-production in English language; widescreen format, uncut (89 minutes),
DVD encoded for ALL REGION NTSC WORLD FORMAT; extras include selected trailers.