Paola Senatore's Final Film is a Gothic Sleaze Fest!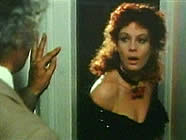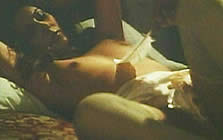 original Italian title: MALOMBRA [Bad Lust]
also known as EROTIC GAMES and PENOMBRA [Twilight]

director: Bruno Gaburro     written & cinematography by: Pasquale Fanetti (as Frank Di Niro)
starring: Paola Senatore · Maurice Poli · Gino Milli · Stefano Alessandrini · Scilla Jacu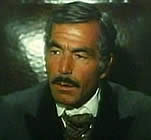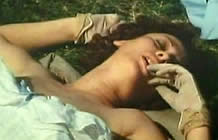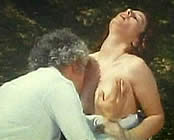 Director Bruno Gaburro delivers another tale of 19th Century erotica (similar to his previous MALADONNA, with essentially the same cast), but this time he adds peculiar elements of gothic chills. A young man named Marco has accepted a bookkeeping/manager position at the estate of his rich uncle, Sir Osvaldo Raininger. He immediately notices that the land baron appears to be suffering from a financial setback and Marco is determined to help him reconcile with the bank. Meanwhile, there's something very strange going on... the appearance of a ghostly woman in black lace. Uncle Osvaldo's wife had died some years before and his sister-in-law is the only other person living in the mansion. Yet, Marco sees, follows and secretly spies on a mysterious woman - who looks exactly like his dead aunt - nightly masturbating in the shadows. He begins to wonder if the randy woman is actually the sister-in-law masquerading as her dead sister, or if there's a ghost haunting the place.
Notorious sleaze-meister Pasquale Fanetti (alias Frank Di Niro) is the man behind the camera [aptly explaining the film's obsession with naked female bottoms in close-up, a mania which distinguishes most Fanetti movies from TOP MODEL 2 to OBSESSION: TELEPHONE SEX, ROE PETALS AND THE INVISIBLE MAN].
Paola Senatore, an Italian brunette/redhead averaged two films a year between 1972-87. She was best known for EATEN ALIVE BY CANNIBALS, LIKE RABID DOGS and KILLER RESERVED NINE SEATS. She also made many sex scorchers like D'Amato's masterpiece EMANUELLE IN AMERICA (XXX), IN LOVE WITH SEX, et al. Her career ended abruptly in 1987 when she was arrested for possession and trafficking of drugs..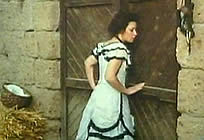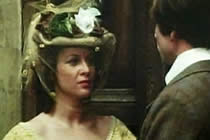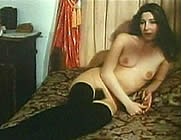 An Italian film in English language; widescreen format, uncut (87 minutes),
DVD encoded for ALL REGION NTSC WORLD FORMAT; extras include selected trailers.