American Songtress Lola Falana in rare Spaghetti Western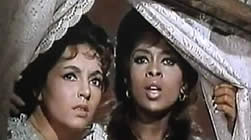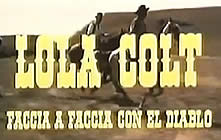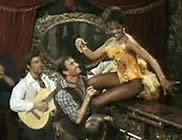 original Italian title: LOLA COLT: FACCIA A FACCIA CON EL DIABLO
[Lola Colt: Face to Face with the Devil]
also known as BLACK TIGRESS

director: Siro Marcellini
starring: Lola Falana · Peter Martell · German Cobos · Erna Schurer · Andre Scotti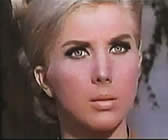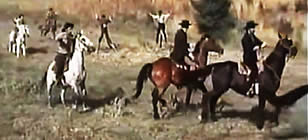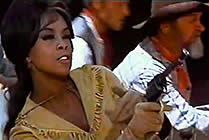 LOLA COLT was a film tailor-made for American singer Lola Falana. She stars as Lola Gate, the head of a troupe of saloon entertainers, forced to settle down in Santa Anna when one of the girls comes down with typhoid fever. As it turns out, the town is terrorized by a bully - aptly named El Diablo - who keeps everybody in line through violent intimidation (including crucifixions, whippings and church burning). Lola convinces the local young doctor to join her in a long-overdue challenge to El Diablo.
Lola Falana was a dancer/singer discovered by Sammy Davis Jr in the early '60s. She starred opposite Davis for her debut film A Man Called Adam in 1962. After the release of that movie, the two traveled to Italy for years of nightclub performances. She learned fluent Italian quickly and began appearing in various television programs. Miss Falana was then signed to make a series of motion pictures. She later returned to the States with Sammy who took her to Las Vegas. For years Lola Falana was the "Queen of Vegas," enjoying a long and lucrative run at the Sands and Aladdin Casinos, known for her signature song Whatever Lola Wants, Lola Gets. Her career was cut short when diagnosed with Multiple Sclerosis in 1987; Ms Falana officially retired after a remission in 1996. Today she lives comfortably in Las Vegas.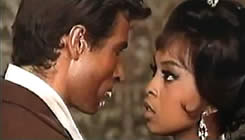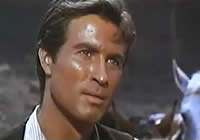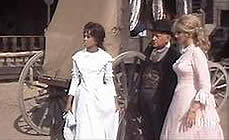 An Italian film in English language; widescreen format, uncut (80 minutes),
DVD encoded for ALL REGION NTSC WORLD FORMAT; extras include selected trailers.