An Insane mix of Doll Squad and Dr Moreau!
Now Finally Uncut from a Newly Discovered Print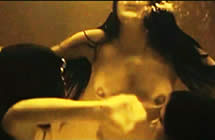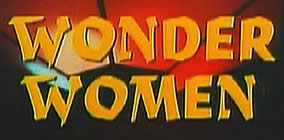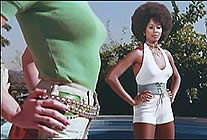 also known as: THE DEADLY AND THE BEAUTIFUL and SUPER WOMEN
director: Robert Vincent O'Neall
starring: Nancy Kwan · Ross Hagan · Maria De Aragon · Roberta Collins · Marilyn Joi · Sid Haig · Claire Hagen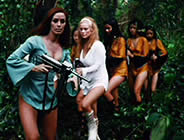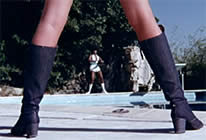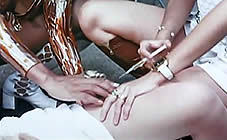 American Insurance agent Mike Harber is on the trail of captured athletes and musicians. He finds the answer to their disappearances in the Philippines jungle, specifically in the lair of the cold but brilliant Dr Su (played by Nancy Kwan). With her squad of superchicks, she sells the body parts to aging millionaires. But all hell breaks loose when her failed mutation experiences escape from the dungeons.
Robert Vincent O'Neill began his career as a Hollywood art director, working on such high-profile independent projects as Easy Rider. In 1970, he jumped at the opportunity to relocate to the Philippines as a director for The Remwood Film Organization Inc. After the international success of this film, O'Neil returned to Hollywood to start work on ANGEL which turned into a popular franchise for him in the mid '80s.
This film obviously benefits from the collection of ravishing female assassins:
     Redhead Maria De Aragon also starred in Robert O'Neal's other Filipino production BLOOD MANIA. Then, after a brief but popular role as would-be alien assassin Greedo in Star Wars IV: A New Hope, Ms De Aragon left the silver screen for the theatrical stage in Jonquiere, Quebec, Canada. She retired in 2008.
     Foxy blonde Roberta Collins returned from the Philippines to co-star in various American television programs (ie, Rockford Files, Kolchak: Night Stalker, et al) before appearing in Tobe Hooper's masterpiece EATEN ALIVE. She is best known for her starring role in SWEET KILL: THE AROUSERS. She died from an accidental overdose, August 2008, at age 63.
     Brunette Claire Polan (actor Ross Hagen's real-life wife) died from cancer December 2003 at age 65. And black knockout Shirley Washington returned to the States (after a brief divergence to Hong Kong) for a series of TV shows including Sanford and Son, Police Woman, et al. She retired from show business with the birth of her child in 1986.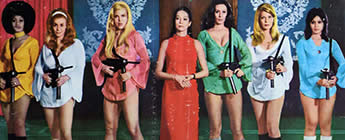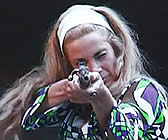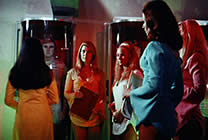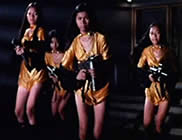 A Filipino film in English language; widescreen format, uncut (82 minutes),
DVD encoded for ALL REGION NTSC WORLD FORMAT; extras include original trailer.